Recommended
1
Trusted Forex Broker Regulated in 5 Jurisdictions With Monthly Trading Volume Exceeding $60 Billion
Broad, Deep Product Palette Spanning Forex Options, Digital Currencies, Stocks, Commodities, ETFs, Bonds, Indices
Many Options For Automated Trading Including Mirror Trader, Zulu Trade, and MQL 5
Choice of Fixed or Floating Spreads and Leverage up to 400:1
Market Analysis and Educational Resources From Reputable Independent Providers Like Autochartist, FXInsights, Dow Jones, and Sharp Trader
Current Promotions
20% bonus on initial deposit up to $10,000, subject to minimum trading volume. This bonus will not apply for auto trading or floating spread accounts.
Referral bonus of up to $400 every time a friend becomes a customer.
Overview
Established in 2006, Avatrade is a trusted name in the forex industry. This Dublin-based broker has a global footprint with offices in Paris, Dublin, Milan, Tokyo, Sydney, Shanghai and even Mongolia. At present, Avatrade has monthly trading volumes exceeding $60 billion with over two million trades per month. It has won many prestigious industry awards in recent years from notable organizations like World Finance and Daily Forex.
What really stands out about Avatrade is its extremely broad and deep product palette. In addition to Forex majors and exotics, Avatrade also offers CFDs on stocks, bitcoin, litecoin, commodities, ETFs, bonds, indicies, plus vanilla FX Options. Avatrade provides many different options for automated trading including Mirror Trader, MQL5, Zulutrade, and its API Library. Avatrade offers expert market analysis and educational resources from reputable independent providers like Autochartist and FXInsights.
While Avatrade offers a wide selection of trading platforms to best suit your trading needs, it does not have one particular platform from which you can access all markets and services.   Avatrade is one of the few brokers to offer the choice of fixed or floating spreads. However, its spreads do tend to be wider than other brokers.
Overall, Avatrade is a good choice for traders of all levels who want a fully featured brokerage who can bear relatively high transaction costs.
Avatrade has great depth and breadth in its range of markets. In additional to forex, Avatrade covers all major areas of the capital markets including equities, fixed income, and commodities.   It offers many more instruments than most of its competitors. Avatrade allows you to trade CFDs on 54 forex pairs, 16 commodities, 20 global indices, 21 ETFs, hundreds of individual shares from US, UK, Spain, Germany, France and Italy.
Avatrade is one of the few brokers to offer bitcoin and litecoin trading. It was awarded the Best European Bitcoin CFD Provider title at the 2014 European Bitcoin Awards. Avatrade also offers forex options for 30 pairs. You can also use options to hedge and alter the risk profile of your open forex CFD positions.

Avatrade provides many choices for automated trading including mirror trading, social trading, expert advisors, trading signals from independent providers like MQL5 and its API Library.  Avatrade offers higher leverage than most other brokers with up to 400:1 leverage for floating spread accounts.
Market Analysis & Education
Avatrade provides a lot of live market analysis to support your trading activity. Customers are given access to technical analysis from Autochartist and fundamental analysis from FXInsights, live news from Dow Jones, and audio commentary from Avatrade's Chief Market Analyst, Naeem Aslam, a frequent contributor to news outlets like CNBC and Bloomberg.
Customers with deposits of at least $500 are given access to Autochartist free of charge. Autochartist's pattern recognition features can be a very useful tool to help identify trading opportunities.
Avatrade invests heavily in trader education. It provides clients with ebooks, webinars and videos on a variety of topics, as well as, access to the premium forex education service, Sharp Trader.  Sharp Trader arms you with a solid foundation in the fundamentals of forex trading and technical analysis. For advanced traders, Sharp Trader also has cutting edge material covering trading strategy, psychology, and insights from professional forex and commodities traders.
Avatrade provides a feature rich trading experience but its trading costs are rather high relative to its peers. Avatrade doesn't charge commission, but its fixed spreads (EURUSD 3 pips) and floating spreads (EURUSD 1.8 pips) are quite a bit wider than its competitors. Avatrade also charges a $25 inactivity fee after 90 days. That said they don't charge withdrawal or deposit fees.
Avatrade gives its customers many opportunities to customize their trading experience.  Avatrade's minimum deposit is only $100 and the minimum lot size is 1000 units.  This is in line with most other brokers.  You can open an account with a base currency in USD, EUR, GBP, or AUD.  You can fund your account by credit card, wire transfer, or online payment services including Paypal, Neteller, Skrill, and Webmoney.  Avatrade is one of the few brokers to give you a choice of fixed or floating spreads.

Avatrade  offers a broad range of trading platforms to best suit your needs and preferences.  This includes Metatrader 4 (PC, Mac, Browser), Metatrader 4 Floating, Avatrader (PC, Mac, Browser), Avatrader Options (PC, Browser), Mirror Trader, ZuluTrade, Metatrader 4 Mobile (android, ios), and Avatrader Mobile (android, ios).
Unfortunately, not all of Avatrade's instruments and services are available on any one particular platform.  For example, you need to switch to the AvaOptions if you want to trade FX options.  For floating spread CFD trades (instead of fixed), you need to switch to the Metatrader Floating Spread platform.  For social trading, you need to switch to Zulutrade.  Beyond the inconvenience of have to switch between platforms, this may make it more difficult to track the performance of your trading portfolio.
Desktop Trading
Metatrader 4 (PC, Mac, Browser) is forex industry standard for CFD trading and offers advanced charting, backtesting and cutting edge analytical tools.  Avatrade allows you to trade over 200 instruments inclseuding CFDs on forex, indices, ETFs, commodities, stocks, bonds via Metatrader.  It also integrates with Expert Advisors and MQL5 for you to execute automated trading strategies.
Avatrade is one of the few brokers to offer a native Mac version of the Metatrader software.  The browser version of Metatrader 4 is compatible with all major browsers including Internet Explorer, Google Chrome, Firefox & Safari
Avatrader (PC, Mac, Browser) also allows you to trade over 200 instruments including CFDs on forex, indices, etfs, commodities, stocks, bonds.  However, you cannot trade with floating spreads on this platform.  As a result maximum leverage is thus capped at 200:1 for forex trades.  One benefit of using Avatrader is its leading technical analysis service, Autochartist is fully integrated into the platform.  You can use Avatrade's API libraries to test and execute automated trading strategies on Avatrader at no additional cost.  
The browser version of Avatrader is also compatible with all major browsers including Internet Explorer, Google Chrome, Firefox & Safari
AvaOptions (PC, Browser) was launched in 2013 and is powered by software from Sentry Derivatives. It's the only platform from which you can trade spot forex and forex options.  Avatrade offers vanilla options on 30 forex pairs with expirations ranging to one day to one year.  Avaoptions provides historical charts and detailed risk analytics (option greeks).  You can give options trading a try with a free 21 day demo account.
Mirror Trader is a unique third party trading copying platform from Tradency.  It allows you to customize the way in which you follow and copy the trading strategies of more experienced traders.  You can use smart filters to select strategy providers to follow based on your trading preferences.  Mirror Trader allows you to set allocations and customize level of risk by setting limits and stops on specific trades.
You can choose to automatically replicate a trading strategy in real time using the auto-mirroring mode.
Alternatively, you can pick and choose which trades to copy in the semi-mirroring mode.
Zulutrade is a user friendly social trading platform which allows to follow and copy the trades of over 100,000 experienced signal advisors from 192 countries free of charge.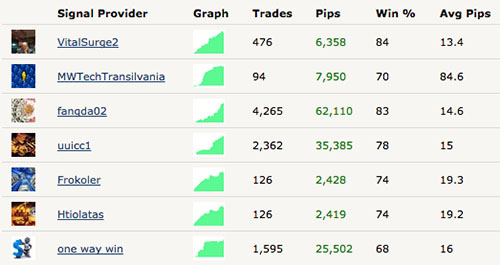 You can filter by many metrics including risk level, win ratio, trading activity, average gain, historical performance, and user reviews.
Mobile Trading
Avatrade offers Android and iOS app for Metatrader 4 and Avatrader.  However, it does not offer mobile versions of Avaoptions, Mirror Trader, and Zulutrade
Avatrade won an award for Best Customer Support in 2009 from Daily Forex.  They offer 24 /5 phone support with local numbers in more than 34 countries.  Customers can also get in touch via live chat and email support.  
Only Ava Select account holders (minimum deposit $100,00) have access to a dedicated account analyst.  While Ava Select Accounts can withdrawal funds within 24 hours, withdrawals for all other accounts take up to 5 business days.
Avatrade was set to be acquired by Playtech in June 2015 at a sale price of $105 million.  However, Playtech decided to walk away from the acquisition after the Bank of Ireland objected to the merger in October 2015.  Playtech is a London Stock Exchange listed FTSE 250 gaming software and services provider and the owner of Markets.com.   Playtech intended to integrate these brokers at some point in the future.  With these recent acquisitions and solid financial backing,
Avatrade is a reliable and established forex broker officially regulated in 5 jurisdictions.  Overseen by regulators from Ireland, Australia, British Virgin Islands, Japan, and South Africa, Avatrade is subject to stringent compliance requirements, including how it handles client assets, security of client funds and financial reporting.  At present, there is no record of regulatory fines or settlements.
Client funds are held in segregated accounts.  Avatrade secures your information and money with 256-bit SSL encryption across the entire website.  It uses McAfee Secure (HackerSafe) to prevent credit card fraud and identity theft.
Customer Reviews
ConnectFX.org
Average rating:
0 reviews
AvaTrade - Dependable, Full-Featured Broker
Established in 2006, Avatrade is a trusted name in the forex industry. Avatrade has monthly trading volumes exceeding $60 billion with over two million trades per month.
Date published: 01/01/2017