Recommended
2
A 10+ Year Veteran of the Forex Market with a Strong Presence in Europe and Asia
One of the Few Brokers to Provide Guaranteed Stop Losses and Negative Balance Protection
Protect your portfolio with Deal Cancellation - undo losing trades for up to 60 minutes
Deep Product Coverage with CFDs on 95 Forex Pairs and Vanilla Forex Options on 26 pairs
Personal Assistance with Trade Strategy and Order Execution from Dealing Room
Current Promotions
50% bonus on your initial deposit up to $2,000
Up to $500 for every friend you refer to EasyMarkets
Note: All bonus offers do not apply to clients from EU countries.
Overview
EasyMarkets is a trusted player in the forex market with a strong presence in Europe and Asia serving customers in over 160 countries.  Established in 2001, it has navigated through the tumult of a few market cycles and adapted to the new regulatory environment. EasyMarkets previously serviced US clients but decided to close down US operations in 2010 after US regulators significantly increased capital requirements.
Easy Markets started offering a very innovative and useful feature named "Deal Cancellation" in mid 2016.  Deal Cancellation enables traders to cancel live trades for up to 60 minutes after execution for a nominal fee.  This gives traders the ability to avoid large catastrophic losses to their portfolio when trades go very wrong quickly.
EasyMarkets is one of the few forex brokers who provide a guaranteed stop loss and have a negative balance protection policy.  To clarify, a guaranteed stop loss means that even if the market gaps quickly, EasyMarkets will execute the trade at your stop loss level.  This feature served its customers well during the CHF crisis in January 2015.  Although EasyMarkets doesn't have the lowest transaction costs, these protections are definitely worth paying for in volatile markets.
EasyMarkets also has good depth in its product coverage with almost two times as many forex pairs as most brokers.  It offers unique tools that help you better understand the direction of the markets and more effectively set stop loss and profit points for your trades.
Overall, EasyMarkets is a good choice for prudent traders who are willing to absorb higher transaction costs in exchange for peace of mind that comes with guaranteed execution.
As mentioned above, EasyMarket's Deal Cancellation feature allows you to avert large trading losses when the market moves sharply against you.  You can choose to enable the Deal Cancellation option when entering your order in the webtrader platform where the applicable fee will also be specified.  The fee will depend on the volatility of a given instrument.  If you sustain losses within the first 60 minutes following trade inception, you have the ability to exercise the cancellation option and an amount equal to your loss credited to your account equity (see example below).  The cancellation option needs to be manually exercised, however, if your stop loss is hit within the first hour, the cancellation option will be deemed to be automatically exercised and your account will be credited the loss.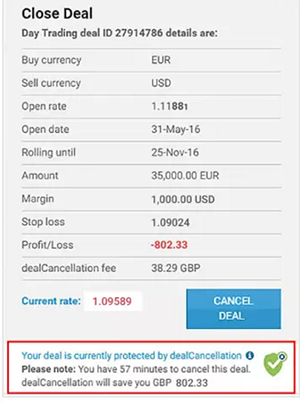 EasyMarkets guarantees trade execution at pre-set stop-loss and profit points.  EasyMarkets is able to offer this because of its time tested risk management systems and procedures.  Brokers who do not provide these protections may execute an order at a very different level than your stop levels (also known as slippage), causing you to have much greater losses than anticipated.  Please note that this guarantee is only available for trades placed via EasyMarkets's web trading and mobile platform.
EasyMarkets is one of the few brokers with a negative balance protection policy.  Traders can incur a negative balance if the market gaps quickly and the broker is forced to close out open trades at a loss exceeding the account's equity.  While some brokers begrudgingly forgave negative balances after the CHF crisis on a one-off basis, EasyMarkets is one of the few brokers offer this protection at all times and include it in its terms of service.
EasyMarkets has more in-depth coverage of the markets than most forex brokers.   It offers CFDs on 95 currency pairs, 16 commodities, and 15 indices.  However, its coverage isn't as broad as other brokers, some of which also offer CFDs on individual shares, bonds and ETFs.
EasyMarkets is one of the few forex brokers to offer vanilla forex options on the same platform.  This means you don't have to switch to a different platform or broker when you want to options.  You can also use the same pool of funds for your option trades.  This means you don't have to deal with  the hassle of transferring funds around and avoid withdrawal and deposit fees from other brokers. EasyMarkets allows you to trade options on 26 currency pairs plus oil, gold and silver.  While there are no margin requirements for options, however, you will not be able to sell options unless you have an existing position in the underlying.

EasyMarkets offers up to 400:1 leverage on most currency pairs.  Automated trading available with Expert Advisors via Metatrader 4.
Market Analysis & Education
EasyMarkets provides a number of exclusive tools to help you optimize your trading.  The Inside Viewer allows you to see which are the most popularity traded currency pairs, the percentage of bullish / bearish traders, and the average stop losses and profit points on EasyMarkets.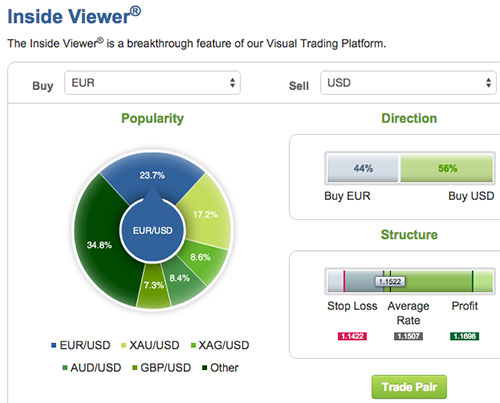 You are also given access to Reuters news feeds, exclusive fundamental analysis from EasyMarkets's research team, and technical analysis from leading independent research firm, Trading Central.  You can set SMS alerts for fills on limit orders, trade closings, and exchange rate levels.
EasyMarkets has a nice archive of educational articles, videos, and eBooks.  They also have a well maintained YouTube channel where they provide videos on timely topics in the forex markets. EasyMarkets also hosts the occasional webinar and in person seminar.
EasyMarkets's transaction costs tend to be wider than its peers.  They do however use a tiered pricing scheme which favors larger accounts.  For example, EURUSD fixed spreads for standard accounts are 3 pips and 1.8 pips for VIP accounts  (min $10,000 deposit). EasyMarkets doesn't charge deposit or withdrawal fees but will deduct a USD 25 Dormant Account Fee after one year of inactivity.
EasyMarkets demonstrates its global reach and focus on frontier markets by offering accounts in 8 different base currencies (EUR, GBP, USD, CNY, AUD, PLN, ILS, ZAR, NOK, JPY).  By offering accounts in many base currencies, EasyMarkets eliminates currency transaction costs when residents of China, Australia, Poland, Israel, South Africa, Norway and Japan transfer money in and out of their accounts.
The minimum deposit for a standard account at EasyMarkets is $100.  This is lower than most competitors and can be funded with a credit card, bank transfer or online payment services including Skrill, Neteller and Webmoney.  However, the minimum trade size on EasyMarkets webtrader platform is higher than most brokers (5000 units vs 1000 units).
EasyMarkets customers can trade with Metatrader 4 (PC), Metatrader Multi-terminal (PC), EasyMarkets Web Trader (Browser), Metatrader 4 Mobile (iPhone, Android), and EasyMarkets Mobile (iPhone, Blackberry).
Desktop Trading
Metatrader 4 is offered only as a PC application.  Metatrader is industry standard software with powerful functionality including expert advisor integrations, backtesting, scapling, hedging, etc... However, there are a number of limitations to using this platform with EasyMarkets.  Firstly, trades place via Metatrader do not have the benefit of guaranteed pending orders, potentially exposing you to slippage.  Furthermore, you cannot trade options and CFDs on agricultural commodities or indices on Metatrader.
EasyMarkets Webtrader allows you to trade EasyMarkets's full range of products and access to the Deal Cancellation Feature and the Inside Viewer tool.  Stops, take profit trades and pending orders placed on this platform also have the benefit of guaranteed execution.  However, the web trader lacks advanced charting features and does not allow you to run automated trading strategies.
Mobile Trading
Metatrader 4 Mobileis available for iPhone and Android.  However, it has similar limitations to the desk version of Metatrader in terms of product limitations and slippage.
EasyMarkets Mobile App is only available on iPhone and Blackberry devices and does not have multi-lingual support.  There is a mobile version of its site that Android and Windows users can access.
EasyMarkets offers 24/5 phone support as well as live chat and email support.  It provides a number of local numbers and different email addresses for specific queries.
VIP accounts (minimum deposit of $10,000) are given access EasyMarkets's dealing room.  You are assigned a dedicated trading specialist with whom you can discuss trading strategies, receive one to one training, customize leverage, and execute orders.
Customer Reviews
ConnectFX.org
Average rating:
0 reviews