Recommended
3
Offers 7 Account Types to Meet Needs of all Types of Traders (For EU clients, account offerings may differ)
STP Broker with Tight Fixed and Variable Spreads and No Miscellaneous Fees
One on One Consultations with Chief Market Analyst for VIP Accounts
Winner of 16 Prestigious Industry Awards in the Last 3 Years
Initial Deposit of only $5 for Micro Accounts
Current Promotions
100% Supercharge Bonus up to USD 50,000
30% Rescue Bonus up to USD 7,000
100% Credit Bonus
Only certain account types are eligible for these promotions and awards are subject to various trading volume minimums.
Bonuses are not available to European clients in accordance with current EU regulation
Overview
Despite being a relatively new player to retail forex, HotForex rapidly expanded its customer base to over 350,000 accounts and won 16 industry awards over the past few years.  
What really stands out about HotForex is the many types of accounts it offers. You can easily find an account type that suits your needs whether you are a novice or pro, prefer manual or automated trading.  You have the option of opening up to 5 live accounts to take advantage of the benefits of each type.  Moreover, HotForex invites you to request specific account features if you require further customization.
HotForex's spreads are tight and competitive no matter which type of account you select.  As a Straight Through Process (STP) broker, Hotforex passes through quotes from the highly liquid interbank market, rather than a dealing desk.
HotForex offers some of the most generous promotional offers including a 100% bonus on your initial deposit up to $50,000 and an ongoing $1,000 monthly performance based contest for top traders.  Please note bonuses are not available to European clients per current EU regulation.
Customer service is another area where HotForex excels with award winning 24/5 multilingual phone, live chat and email support. Some larger accounts can receive personalized services including with one on one consultations with Hotforex's Chief Market Strategist.
While HotForex offers CFDs on forex, indices, stocks, and commodities, its depth of coverage is more limited than its peers.  For instance, you can only trade 10 commodities, 11 indices, and 36 individual shares making it more suited to traders primarily focused on forex.
HotForex gives busy traders a number of other options to participate in the forex market.  With an Auto account, you can automate your trading by copying trading signals from various providers in the MQL5 community.
For those looking to have their accounts actively managed by experienced professionals, HotForex offers PAMM accounts where you can invest with over 300 vetted managers.  HotForex provides transparent data on each manager's positions, past performance, win loss ratio, maximum drawdown, use of leverage, etc… HotForex also requires that PAMM managers co-invest so they have skin in the game.  You get real time performance data and can withdraw your funds at any time.  Please note that PAMM accounts are not available to European clients under current EU regulation.
Traders who run automated trading strategies (e.g. expert advisors in Metatrader) on their personal computer can have trading disrupted by power outages and crashes.  HotForex offers uninterrupted trade execution with virtual private server (VPS) hosting, free of charge, with a minimum deposit of $5,000.
HotForex offers many different contests for you to test your trading acumen against other traders.  The 50 day Fast and Glorious trading competition offers a $4,000 prize to the winner and HotForex's monthly trading competition comes with a $1,000 prize.  You can even win real money by trading a demo account with a $2,000 prize for the winner every month.
Market Analysis & Education
HotForex offers many tools and resources for active traders.  Customers have access to exclusive daily market analysis from HotForex's research team.  Accounts with deposits greater than $500 are given unlimited access to leading independent Technical Analysis research firm, Trading Central.
HotForex provides a number of useful tools you can use to calculate pip value, ideal trade size, stops, targets, etc..  HotForex's Trader's Board provides insight into which pairs have the most trading volume as well as the direction of client trades on a given day.  
HotForex has plenty of educational resources for novice and experienced traders.  Choose amongst detailed articles, software tutorials and interactive video courses depending on your learning style.  HotForex also hosts many free webinars with their Chief Market Analyst.  Some are focused on timely topics and live market analysis; others provide detailed coverage of evergreen topics in technical and fundamental analysis, market structure, trading psychology and trading strategy.  Webinars are archived and available for replay if you are unable to attend live.
As an STP broker without the overhead of a dealing desk, HotForex is able to provide some of the lowest transaction costs amongst forex brokers.  HotForex's typical EURUSD fixed spread is 1.8 pips (other brokers typically charge 3 pips) and typical EURUSD floating spread is 1.2 pips (with other brokers around 2 pips).  
HotForex doesn't charge commission with the exception of Zero Spread accounts.  EURUSD spreads are typically 0.2 pip for these accounts and so HotForex charges commissions of $5 per lot as compensation for its services.  HotForex also doesn't charge any transfer fees or other miscellaneous fees.
With 7 different type of accounts, you will be able to find an account that suits your needs and trading style at HotForex. Please keep in mind, account types can differ based on client location, so clients from the European Union could possibly see different account types being offered.  Traders just testing the waters can open a micro account with only a $5 deposits.  Other self-directed traders can open premium and VIP accounts.  Traders who prefer not to deal with the uncertainty of floating spreads can select fixed spread accounts.  Scalpers and high volume traders can opt for Zero Spread accounts with tight spreads and low commissions.  Traders using automated trading strategies can opt for an auto account.  Traders who want experienced professionals to manage their money can open a PAMM account (with the exception of EU based clients).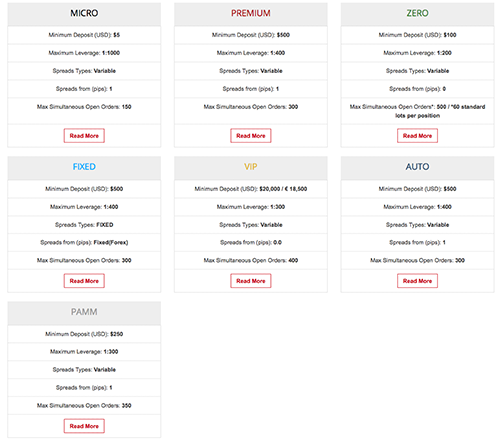 HotForex only offers accounts with base currencies with USD or EUR.  Some other brokers offer up to 7 base currencies.  For customers outside of Europe and the US, opening an account in a currency other than their home currency means you will incur currency translation costs when you deposit and withdraw funds from your HotForex account.
HotForex allows you to fund your account via credit cards, bank transfer and a number of online payment services including Skrill, Neteller, cashU, UKash, Fasapay and Webmoney.
HotForex's software platforms now include Metatrader 5, as well as the industry standard Metatrader 4 (PC, Mac via Win),  Metatrader 4 multi-terminal (PC), HotForex Webtrader (browser) and Metatrader 4 mobile (iPhone, iPad, Android, Windows).  You can use the same log-in credentials and your account data will sync between platforms.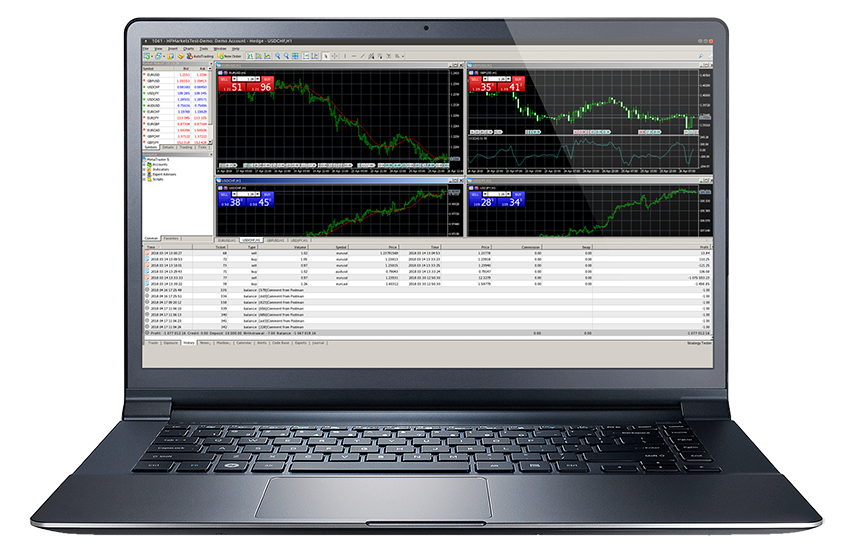 Desktop Trading
HotForex's desktop platforms including the forex industry standard Metatrader 4,  Metatrader 4 Multi-terminal and the HotForex Webtrader.  Although HotForex doesn't offer Metatrader 4 as a native Mac application, it provides a tool (Wine) which allows you to run the Metatrader PC application on Macs without the need for Parallels or VMware software. HotForex's Webtrader is Flash-based platform.  It doesn't requires any installation and runs on Windows, Mac and Linux.
HotForex offers 24/5 multilingual phone support as well as Skype, live chat and email support.  HotForex has different numbers for customer service, phone trading, and sales to put you in touch with the right people without having to navigate through a multitude of touchtone menus.
Customers with premium, zero spread, zero spread, VIP, or auto accounts are assigned a personal account manager.  VIP accounts can have unlimited live chat sessions with in house technical analysts during the trading day.  They can also book three private half hour consultations with HotForex Chief Market Analyst.
HotForex's parent company, HF Markets Limited, is a St. Vincent based privately held company founded in 2010.  It is regulated by St. Vincent & the Grenadine, the Financial Services Commission in Mauritius, CySec in Cyprus and the Financial Services Board in South Africa.  It has no record of regulatory fines or issues to date.  HF Markets is also member of Bourse Africa, an international multi-asset class exchange which offers commodities, currencies and equities trading.
HotForex won an award for Best Client Funds Protection Broker Award in 2015 at the MENA Dubai FX Show.  Customer funds are held in segregated accounts at Barclays and State Bank of Mauritius.  Fund administration is handled by independent 3rd party, NinetyEast Fund Services Limited.  NinetyEast also handles HotForex's know your client documentation review and verification.  HotForex is routinely audited by Lancasters Chartered Accountants to ensure compliance with regulations, bank policies, and to prevent the occurrence of fraud.
Customer Reviews
ConnectFX.org
Average rating:
0 reviews