10
Cutting Edge Social Trading Technology Connects You with 4.5 Million Traders in 170 countries
Find Like-Minded Traders, Review Their Portfolio and Performance, Discuss Trades, Strategies and Market Conditions
Copy Their Trades in Your Own Account in Real Time without Paying Any Out of Pocket Fees
Experienced Traders Can Monetize Trading Expertise by Allowing People to Copy Their Trades
Only $50 Minimum Deposit to Open an Account
Current Promotions
$100 per friend referral up to $1000. Each friend must deposit at least $200 to qualify.
50% bonus when you have 5 or more followers, up to $2,500.
Overview
eToro is the undisputed market leader in social trading technology.  This award winning social investment network was established in 2007 and it now has over 4.5 million users in 170 countries.  While other brokers do offer social trading, their online communities cannot match eToros in size or engagement.  
eToro's  innovative, award winning platform allows you to connect with other traders and review their portfolio and performance.  You can even copy their live trades in real time in your own account without paying any management fees out of pocket.
Experienced traders can also monetize their trading expertise on eToro.  When followers copy their trading activity, eToro will pay a percentage of their spread revenue and rebate part of the spread for your own trades.
eToro has a decent selection of CFDs on US and European stocks and even offers trades on bitcoin.  However, its coverage is rather thin when it comes to forex, commodities and indices. eToro's spreads are also high relative to its peers with EURUSD at 3 pips.  Transferring money from your eToro account is also costly with withdrawal fees of up to $25.  eToro also does not offer phone support, live chat or email support.  They direct you to a online ticketing system for customer service inquiries.
Overall, eToro is a good choice for new traders learning to trade by connecting with and copying more experienced traders.  It also offers attractive financial incentives for experienced traders who are willing to share their knowledge and be transparent with their trading activity.
The main attractions of eToro is their advanced social trading technology and access to an active community of 4.5 million traders.  Etoro offers a great way to learn about forex trading from your peers. Discuss individual trades, portfolio performance, market trends with traders you follow.  Ask them about trading strategy and reasons for implementing specific trades.
InvestorFinder - eToro's openbook platform is a trading voyeur's paradise which gives you full transparency into other community member's accounts.  You can get information on their open trades, trading history, individual trade performance, drawdown, # of copiers, use of leverage, % profitable weeks, markets traded, activity level, who they follow and who's following them.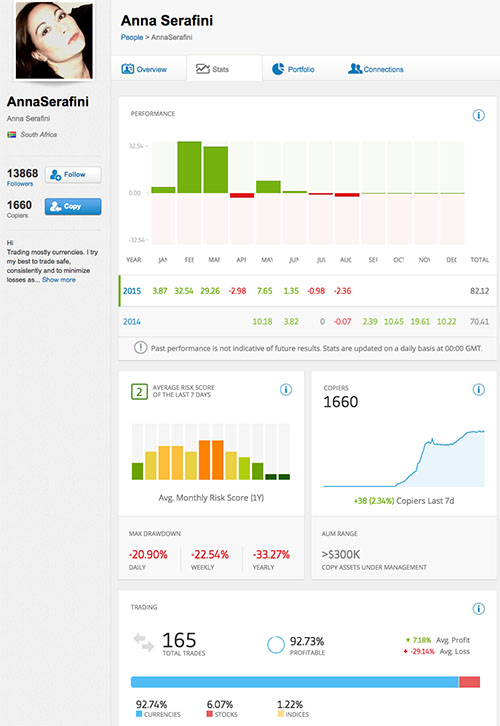 To ensure personal privacy, no personal information is provided to others in the community.  Also, trades / performance data are reported on a percentage basis so other members will not know the size of your account.  You also have the option of not sharing any trading activity by adjusting your privacy settings.
CopyTrader - eToro's open book also allows you to mirror other trader's trades in your own account in real time with the same stop loss and take profit levels.
Find the right traders for you to copy by filtering and sorting by performance, risk score, win ratio, % profitable weeks, markets, number of copiers, trading activity level, country, etc.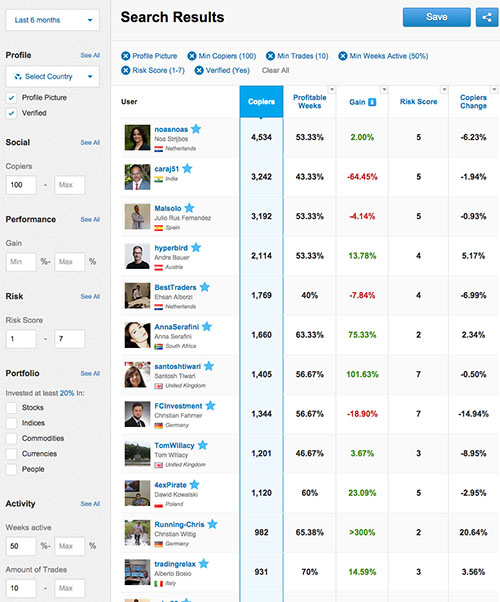 Copy up to 20 traders and allocate as little as $100 or as much as $500,000 to each.  You can also set the allocation as a percentage of your portfolio up to 40% per trader.  If a trader is underperforming, you can change who you want to follow at any given time or change your allocation.  eToro's trade copying  is similar to PAMM accounts offered by other brokers except there are no out of pocket fees to copy traders on eToro.  
Popular Investor Program - You can monetize your trading success and know how by getting traders to follow and copy you under eToro's Popular Investor Program.   
With only 5 copiers, eToro will reward you a 50% deposit bonus.  Increase your following over time and eToro will pay them up to 30% percentage of spread revenue, rebate up to 100% spread, and even pay a 2% management fee on your assets under management.
Although eToro has a good selection of stock CFDs, it other product offering are rather thin.  It offers CFDs on only 31 currency pairs, 3 commodities and 10 indices.
eToro also gives you the unique ability to set your own level of leverage based on your risk appetite.  You can go as low as 2:1 and as high as 400:1 for forex.  The default setting will be at a conservative 50:1 ratio.
Market Analysis & Education
eToro does not provide much fundamental or technical analysis itself. However, they make up for this with community discussion boards where you can connect with millions of active users.
Premium Etoro accounts members (minimum deposit of $20,000)  are given free access to Trading Central, a leading independent provider of technical analysis.  Note that many other brokers provide Trading Central access to all accounts or set the minimum deposit at a much lower bar (e.g. $250).
eToro does however provide a good amount of evergreen educational content to all members including live webinars, ecourses and video tutorials for on its trading software.  The courses cover variety of topics from beginner to advanced such as intro to Forex Markets, terms, order types, fundamental and technical analysis, strategies, psychology, and capital management.
While eToro provides a feature rich social trading experience, its trading costs and fees are rather high.
While eToro's forex trades are commission free, its fixed spreads are pretty wide compared with other brokers.  For instance, eToro charges 3 pips for EURUSD where most other brokers charge 2 pips or less.
eToro also charges withdrawal fees of up to $25 and charges currency conversion fees for deposits and withdrawals of 250 pips.  The only base account currency is USD so customers transferring funds in other currencies will take a substantial hit every time.  There is also a $5 monthly inactivity fee after 4 months.
The minimum deposit for a standard eToro account is only $50 which is lower than most other brokers.  As mentioned earlier, eToro does not given you a choice of base currencies.  You can fund your account via credit card, wire transfer, or online payment services including Paypal, Neteller, moneybookers, Skrill, Webmoney, Yandex, GiroPay.  eToro's minimum trade size is 1000 units, in line with most other brokers.  
eToro desktop trading is all browser based.  Connect with eToro's social network via eToro Open Book (browser) and place trades and manage your trade copying via eToro Web Trader (browser).  eToro also offers mobile app versions of open book and webtrader for Android and iOS.  eToro does not offer Metatrader or desktop version of its trading platforms.
eToro offers a browser based Webtrader to manually execute trades, browser based Openbook to find traders to copy, and Mobile Apps (ios, android) to monitor and trade your account on the go.
Desktop Trading
eToro's Webtrader platform allows you to manage your portfolio via an intuitive and user friendly interface.  Use webtrader to place individual trades, manage which traders you copy and your portfolio allocation to them.  eToro's webtrader has a one click order system which allows you easily adjust leverage and specify stop loss and profit level.  eToro makes it easy to understand the impact of a trade on your overall portfolio.  Stop loss and profit levels are displayed both as exchange rates and dollar amounts and the order confirmation bar also displays pip values in dollar amounts.  Webtrader will also show you current market sentiment on your live trades displaying the % of traders buying or selling the pair.
eToro's Openbook platform allows to you connect with, filter and sort other trades in the eToro social investment network.
Mobile Trading
eToro offers ios and android versions of Webtrader and Openbook as two mobile separate apps.  Each app has the full functionality of the browser based versions.
Contacting eToro for customer service inquiries can be rather confusing.  eToro's Contact Us page directs you to an online FAQ.  If you look hard enough on that page, you are able to find a link to  a ticketing system where you can submit a request for help.  
It looks like eToro is trying to streamline costs by doing without a call center.  Only Premium Etoro accounts members (minimum deposit of $20,000) are assigned a personal account manager.
Founded in 2007, eToro is widely recognized as a fintech beacon with its innovative approach to social trading.  Its CEO, Yoni Assia, and many members of the board have a strong computer science, engineering and design background.
eToro is regulated by CySEC in Cyprus and FSA in the United Kingdom.  The Etoro platform is offered to Asia based customers via an Australian entity named IC Markets Ltd. IC Markets is licensed financial services firm in Australia, regulated by ASIC.  eToro also has a US based affiliate regulated by the CFTC and NFA.  However, it is not currently active and does not accept American clients.
eToro reached a settlement with CySEC in 2013 over undisclosed weaknesses in their organizational structure prior to 2010.  CySEC notes that those issues have since been resolved at the time of the settlement. No record of fines or settlements in the past year
eToro keeps client funds in segregated Accounts at Barclays Bank, Coutts and other first tier banks. eToro suffered a malicious DDoS attack in July 2014 which caused a disruption in service.   Luckily, company and customer funds were unaffected.  eToro currently employs Incapsula to deal with cyber security issues.
Customer Reviews
ConnectFX.org
Average rating:
0 reviews
eToro - The Leading Social Trading Network
eToro is the undisputed market leader in social trading technology. This award winning social investment network was established in 2007 and it now has over 4.5 million users in 170 countries.
Date published: 01/01/2017