One of the Most Trusted Names in Financial Services Industry Open Since 1982
SIPC Protection up to $500,000 for Customer Securities Plus $600 Million Insurance Policy
2 Factor Authentication Plus 100% No Liability Guarantee for Unauthorized Trades or Transfers
Full Service Brokerage Offering Securities from 77 International Markets Including 80 Commission Free ETFs, 8,000 Funds, 30,000 Bonds, 56 Forex Pairs, Complex Options and Futures
US Retirement Accounts (IRAs, 401ks), Planning Tools and Chartered Retirement Planning Counselors
Current Promotions
Up to $600 Cash Credit with $50,000 deposit
Commission free trades within the first 60 days of account opening for securities accounts with initial deposits more than $10,000.
Overview
----------------------------------------------------------------------------------
UPDATE: AUGUST 27, 2015
ETrade has decided to exit the forex business to focus on core securities offerings.  It is no longer accepting new forex account applications.
---------------------------------------------------------------------------------
ETrade is one of the most trusted names in the financial services industry.  Established in 1982, it currently has 4.3 million customer accounts and $189 billion in customer assets globally.  As a bank and broker dealer, ETrade is closely scrutinized by every major US financial regulator including the FDIC, FINRA, Federal Reserve, SEC and OTS.
ETrade gives you the ability to invest in many markets and access financial products not provided by many other forex brokers.   This includes a wide selection of options, futures, mutual funds, ETFs, stocks, bonds, retirement account and managed portfolios
However, ETrade doesn't offer retail forex trades directly.  Rather, it sends its customers to FXCM, acting as an introducing broker rather than your dealer.  FXCM itself has been in dire straits, sustaining substantial losses in January 2015 with the Swiss Franc Crisis.

ETrade's forex trading terms (via FXCM) are less client friendly than overseas brokers.  You need a minimum deposit of $2,000 to open a forex account and you also cannot fund your account from your credit card.  Maximum leverage is set at 50:1 on Forex trades and you cannot trade via Metatrader.  ETrade has a high number of miscellaneous charges including fund transfer fees, account transfer fees, paper statement fees, etc...
ETrade is a good choice for US-based traders who are primarily focused on securities trading.  However, non-US forex focused traders may have better options overseas.
ETrade is a full service securities brokerage who offers securities from 77 international markets.  It allows you to directly purchase a wide range of stocks, bonds, ETFs and mutual funds.  Other forex brokers only offer CFDs on a limited number of popular securities.  Being able to directly purchase securities through ETrade means your investment universe will be significantly larger.
For US residents, ETrade also offers US tax advantaged retirement accounts like IRAs and 401ks not offered by other forex brokers.
ETrade allows you to execute sophisticated multi-leg option strategies in a single order.  They also provide detailed analytics (greeks) for you to understand and manage the risk of your option trades
Although ETrade is not a forex specialist, you can still trade over 50 forex pairs via FXCM, a number comparable to other forex brokers.  They offer up to 50:1 leverage on most currency pairs, less than global forex brokers but in line with other US brokers
With a minimum deposit of $10,000, you can access the futures market and trade indices, currencies, rates and commodities. Although futures trade sizes are larger than retail forex CFDs (100,000 units vs 1,000 units), the transaction costs tend to be lower.  Well capitalized customers who prefer not to trade forex via FXCM can open a futures account for currency trading instead.
Market Analysis & Education
Most of ETrade's tools and investor education tend to be focused on stocks and funds.  ETrade periodically provides exclusive market commentary from its internal investment analysts.  They provide independent equity research reports from Credit Suisse, S&P Capital IQ, Thomson Reuters and Marketedge and mutual fund research from Morningstar.
ETrade offers a number of stock, mutual fund and bond screening tools to help you filter down the securities to invest in based on your specific criteria.  They also provide sophisticated portfolio management tools for you to analyze the risk, diversification and projected income of your entire portfolio.
ETrade has a number of educational articles, videos, courses and live interactive webinars on topics like equities, bonds, forex, funds, options, portfolio management, asset allocation, retirement, tax planning, etc…  Some of the material is provided by independent firms like Morningstar, Forefield, CBOE, and Pro Market Advisors.  Courses modules are labelled by level of difficulty to help you select the right one to take.
ETrade doesn't provide much information about the transaction costs of forex trades placed via FXCM.  They only to state they will be zero commission with all costs embedded in the spread.  Prospective customers should keep in mind that spreads will need to be wide enough to compensate both ETrade (as introducing broker) and FXCM (as your dealer).
ETrade's commission rate is $9.99 for stocks and ETF trades.  For options, they charge a $9.99 commission plus an additional $0.75 per option contract.  For cost sensitive investors, ETrade also offers commission free trades on 80 of the most popular ETFs as well as 1300 no load no fee mutual funds.
ETrade levies a number of administrative fees including a $25 outgoing wire transfer fee, a $25 returned check fee, $25 insufficient funds transfer fee, $2 monthly paper statement fee, $60 total account transfer fee and a $25 partial account transfer fee.  They also charge an additional $25 fee for orders placed over the phone.  Given the high regulatory capital requirements and strict regulation in the US, trading terms offered by US brokers tend to be less competitive than global counterparts
ETrade has pretty high account minimums compared with overseas brokers.  Minimum deposits are $500 for brokerage accounts, $2,000 for forex accounts and $10,000 for futures accounts.  Payment options include wire transfer, check, ACH transfer or brokerage transfer.  As with other US brokers, regulation prohibits account funding with a credit card.
ETrade's website does not provide information on minimum trade sizes for forex trades via FXCM.  However, the smallest lot size FXCM's offers to its direct clients is 1,000 units of currency.
ETrade's customers can trade via ETrade 360 (browser), ETrade Pro (PC, Mac) and ETrade Mobile (iPhone, iPad, iWatch, Android, Kindle Fire, Windows Phone).  Etrade does not offer the forex industry standard software, Metatrader 4.
Desktop Trading
ETrade 360 is a browser based platform which does not require any download.  You can receive streaming quotes, place trades and access all your ETrade accounts via this portal.  ETrade 360 has a number of tools to help you manage all your assets including a graphical view of accounts, portfolio profit and loss and retirement planning calculators.
ETrade Pro is a desktop application available for both PC and Mac.  It gives you trade all of ETrade's products and markets including complex options and futures.  You also have access to real time streaming quotes (level 2), CNBC TV, powerful charting technology, strategy back testing tools and a dedicated support team.  In order to have access to ETrade Pro, you must maintain a $250,000 balance with ETrade or execute 30+ trades a quarter.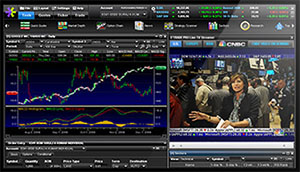 Mobile Trading
ETrade mobile is available on the iPhone, iPad, iWatch, Android, Kindle Fire, and Windows Phones.  It allows you to manage your account on the go, place trades and receive real time market information.  You can stay in touch with the markets by accessing CNBC TV, educational videos, analyst reports and receive real time smart alerts via the app.  ETrade mobile also allows you to take care of bill payments and check deposits.  With the iPhone version of the app, you can log in with just your thumb print for added convenience.
ETrade offers 24/5 multilingual phone support as well as live chat and email support.  If you are located in the US, ETrade has a number of branch offices where you can get in person advice from financial consultants.
ETrade is a blue chip financial services company that has been in business since 1982.  As a NASDAQ listed public company, ETrade is required to periodically produce audited financial report, making its financial situation transparent to the investing public.  Despite having a global presence, it primarily focused on its US customers.  Etrade closed down UK, Dubai, German operations in recent years to focus on US operations .
As a US bank entity and broker dealer, ETrade is subject to some of the strictest regulations with respect to capital requirements and handling of client monies.  ETrade is egulated by SEC, FINRA, FDIC, Federal Reserve, OTS in the United States, ASIC in Australia, the SFC in Hong Kong and the MAS in Singapore.
ETrade was fined by SEC in 2014 for facilitating the re-sale of unregistered microcap stocks and in 2008 for failing to document and verify identity of its customers.  They were also fined by FINRA in 2009 for an inadequate anti-money laundering program.  While these are serious compliance issues, they do not directly endanger customer assets
Bank deposits at ETrade are guaranteed by the FDIC and as a member of SIPC, ETrade customer's assets are guaranteed up to $500,000 per individual.  ETrade also has a $600 million insurance policy protection on top of SIPC protection to protect customer assets.  In comparison, clients of CySEC (Cyprus) regulated brokers are only entitled up to EUR 20,000.
ETrade recognizes the importance of internet security and uses Norton Symantec to secure its online communications and transactions.  ETrade also offers customers two factor authentication tools to prevent unauthorized logins with a security ID token and / or a mobile app version of the token.  In the unlikely event of a security breach, ETrade provides a zero liability guarantee to compensate customers for unauthorized trades, payments and fund transfers
While ETrade's securities business is solid and secure, keep in mind that forex trades are placed via FXCM.  ETrade's website explicitly states that its clients funds at FXCM are not given segregation protection in the event of FXCM's bankruptcy.

This is a very real concern given FXCM's current financial condition.  FXCM had $225 million in negative customers balances in January 2015 after the surge in the Swiss Franc.  FXCM's share price dropped 90% the following day, it had to obtain emergency funding and various business units are in the process of being sold.  
Customer Reviews
ConnectFX.org
Average rating:
0 reviews
ETrade - Global Securities Specialist
ETrade is one of the most trusted names in the financial services industry. Established in 1982, it currently has 4.3 million customer accounts and $189 billion in customer assets globally.
Written by:
ConnectFX.org
Date published: 01/01/2017