Allows U.S. Clients
Top Notch Forex Broker with a Global Presence and a Long Operating History
Live Q&A with Team of Forex Experts During Trading Sessions on Mondays and Thursdays
Free Access to Independent Analysis from Autochartist, eSignal, and Trading Central
Phone Support Available 7 Days a Week
Overview
Forex.com is a reliable forex broker with a global presence and a long operating history.  Founded in 2001, it serves over 200,000 accounts in over 180 countries. It is one of the few forex brokers who is able to service US customers.  A safe and sound choice, Forex.com is overseen by 9 regulators and subject to some of the strictest regulatory standards in the world.
Forex.com invests heavily in its trading infrastructure to ensure they maintain the highest standards of trade execution.  99.8% of all trades are executed in less than 1 second, with an average execution speed of just 70 milliseconds.  In 2013, Forex.com processed over 45 million trades globally and over 65% of limit orders received price improvement.
After the recent financial crisis, US regulators increased capital requirements forcing many brokers out of the US markets.  Only well capitalized companies like Forex.com remained and so the terms they offer to customers are comparatively less competitive. For example, the minimum deposit to open a Forex.com account is $250 compared with a $100 minimum for most Europe based brokers.  It charges withdrawal fees of up to $40 where overseas brokers offer fee free withdrawals.  Many non-US brokers offer initial deposit bonuses of 10-100%; Forex.com also doesn't offer any such bonuses or other promotions.
US regulation also prevents US and non-US customers from funding accounts with credit cards.  Maximum leverage on forex trades for US customers is also limited to 50:1.  Non-US clients of Forex.com must also submit a W-8BEN form to avoid withholding tax.
Forex.com is a solid and safe choice for US clients.  However non-US traders may want to take a look at Europe-based brokers who to tend to offer more competitive terms.
There are some significant differences in the product offerings for Forex.com's US and non-US customers. While non-US clients can trade CFDs on Forex, indices and commodities with Forex.com, US traders can only trade 50 forex pairs, gold and silver.
Forex.com refers US clients to affiliated futures brokerage, Daniels Trading, where they will need to apply for a separate account to trade commodities, indices, and rates. This removes any cross margining benefits between forex, commodities and indices making it more difficult to assess the performance of your portfolio across markets.
Professional and institutional traders can access a forex ECN named GTX with a minimum deposit of $100,000 and minimum daily trading volume of at least $5 million.
Forex.com's product offerings outside of forex aren't particularly deep. Non-US customers can only trade CFDs on 11 commodities and 10 indices. Forex.com also doesn't offer CFDs on individuals shares, ETFs or bonds like some other overseas forex brokers.
Due to US regulations, Forex.com only offers up to 50:1 leverage on Forex trades for US customers. However, non-US traders can have up to 400:1 leverage for forex trades.
Market Analysis & Education
Forex.com's team of technical and fundamental research analysts provide a substantial amount of market analysis including daily articles, weekly forecasts, pivot points and in-depth research reports.  Forex.com also gives you access to tools and analytics from leading 3rd party providers like Autochartist, eSignal, and Trading Central.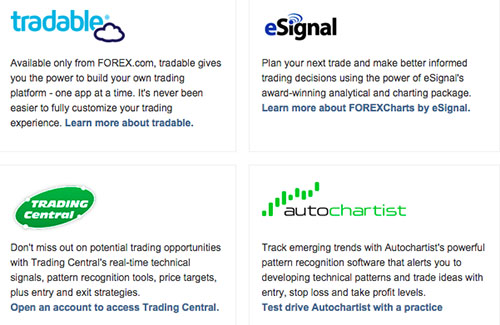 Forex.com hosts live trading sessions on Monday and Thursday where you have participate in a Q&A session with the Forex.com research team.  You can also join some free educational webinars covering topics in technical and fundamental analysis.
Forex.com has a number of free educational resources including reference articles and video tutorials on the software platforms.  They also offer interactive eCourses but charge GBP 99 for the basic course and GBP 299 for the intermediate level course.  Other brokers offer similar courses free of charge.  
Although Forex.com doesn't charge commission and its floating spreads are relatively competitive, however, it levies a number miscellaneous fees.
EURUSD spread for standard accounts (minimum deposit $250) is typically 1.8 pips, and EURUSD spread for premium accounts (minimum deposit of $10,000) is typically 1.5 pips.
Forex.com doesn't charge deposit fees, it charges wire fees of $25 for payments to US accounts and $40 for payments to international accounts for withdrawals for standard accounts.  These wire fees are waived for premium accounts.  Forex.com also charges a USD 15 inactivity fee after 90 days and GBP 99 and GBP 299 fee for some of its eCourses.
As one of the few Forex brokers who can accept US clients, Forex.com tends to offer less competitive terms and fewer account options.  The minimum initial deposit is $250 where most overseas brokers only require $100.  Forex.com allows funding by credit card and ewallet for non U.S. clients. U.S. clients may fund by debit card, ACH payment, wire transfer, and check.  The only base currency is USD and you cannot opt for fixed spreads.
Most Forex.com customers transact directly with its dealing desk, however, institutions and professional traders have the option of trading through Forex.com's ECN with a minimum deposit of $100,000.
Forex.com offers a number of trading platforms including the industry standard Metatrader 4 (PC), FOREXtrader Pro (PC, Mac, Browser), Tradable (PC, Mac), Metatrader 4 Mobile (iPhone, iPad, Android and Windows phone), and FOREXtrader Pro Mobile (iPhone, iPad, Android and blackberry).  
Forex.com requires you to specify which trading platform you want to use before you open a live account.   Unlike other broker, Forex.com doesn't allow use all of its platforms after account opening.  If you select Metatrader, you will not be able to trade via Tradable or FOREXtrader Pro.  It would be advisable to open a few practice accounts to test the software to see which platform you prefer before opening a real account.
Desktop Trading
Metatrader 4 is only available as a PC application.  Forex.com also does not offer the multi-terminal version of Metatrader 4.   Metatrader is also the only platform to offer Expert Advisor integrations.
FOREXTrader Pro is available on PC, Mac and via browser.  Although all platforms can access Autochartist, only FOREXtrader Pro users can access technical analysis from Trading Central.  You can execute automated trading strategies with FOREXtrader Pro, however, there are only 15 pre-defined trading strategies - substantially fewer than the EAs available to Metatrader accounts.
Tradable is available as a PC and Mac application.  However, the application is only available to Forex.com's US customers.  Tradable is a highly customizable third party trading platform.  It has a number of add-ons you can purchase to customize your trading experience including plug-ins for social trading, automated trading, journaling, etc..
Mobile Trading
Metatrader 4 is available as a mobile application for iPhone, iPad, Android and Windows Smartphone.  FOREXtrader Pro Mobile is available on iPhone, iPad, Android, and Blackberry.  Although the company who developed Tradable software has a mobile version, Forex.com doesn't make this available to its customers.  Tradable users can manage their account using any of FOREXTrader Pro mobile apps.
Forex.com is one of the few brokers to offer phone support 7 days a week.  Their customer service center is open 24hr Monday to Friday, 9am to 5pm Saturday, and 10am-5pm on Sunday.  You can also get your questions answered via live chat and email.  However, only premium accounts (minimum deposit $10,000) have access to a dedicated relationship manager.
FOREX.com's parent company is Gain Capital, listed on the NY Stock Exchange under ticker GCAP.  As a US public company, financial reports about its business performance and regulatory capital regulatory are made available to the public on a quarterly basis.  This level of transparency and oversight helps deter dubious business practices.  As of March 31, 2015, Gain's Total assets were $1.239 billion, available liquidity was $123.1 million, and its regulatory capital requirement was $63.3 million. Customer funds are held in segregated accounts and managed by a number of investment grade custodian banks.
Forex.com is one of the most heavily regulated forex brokers, overseen by 8 agencies in 6 countries.  It is regulated by the CFTC, NFA, & SEC in the US, the FCA in the UK, the FSA in Japan, the SFC in Hong Kong, ASIC in Australia, and IIROC in Canada.  They were fined in 2010 by the NFA for their weekend liquidation, margin and slippage practices.  However, there has been no recent regulatory action.
Customer Reviews
ConnectFX.org
Average rating:
0 reviews
Forex.com - Best Choice for US Traders
Forex.com is a reliable forex broker with a global presence and a long operating history. A safe and sound choice, Forex.com is overseen by 7 regulators and subject to some of the strictest regulatory standards in the world.
Date published: 01/01/2017