ConnectFX is pleased to bring to you a trading blog from a new Forex trader, Tristan from the UK.  This is an opportunity to learn from the experiences of someone just like you. Share his journey into the world of forex trading, successes and failures.
---

Jan 18, 2018 –  My name is Tristan and I have decided to start this blog series on ConnectFX.org as a way to document my venture in to trading the forex markets. I am a 35 years old British citizen and have spent the largest part of the past 11 years working as a client liaison officer for a large multinational company in Spain.
Needless to say, my experience with finance is limited.  I was fairly average at mathematics at school and I have zero experience of real-life trading. I would consider myself as absolutely normal and am just a very average Joe trying to make it as a part-time trader. Hopefully, this can be useful to those interested in starting trading and perhaps help to avoid some of the mistakes that I am very likely to make along the way!
Why Trade?
I have always liked the idea of how it might be possible to give up working full-time in an office and becoming my own boss. This has been my initial attraction to trading financial markets and, despite any real experience or education in finance, I have been inspired by reading success stories of those who were not only wealthy but were in complete control of their time and lives.
In my opinion, trading offers the freedom and flexibility to control your own destiny without having to answer to anyone and living wherever, and however, you like. Those who have made the transition from office employee to full-time trader have written books, blogs and offer trading courses to demonstrate their success. This seems like a pretty good place to be and I one day I thought "why not try to be a trader too? Let's give it a go.
The success stories aside, I am also aware of the experienced pundits who insist that the learning curve is very steep and that a very large number of new traders blow their accounts in the first few weeks. There is also the somewhat daunting figure of 95% of all traders who are said to be unable to consistently make money from forex trading because they lack the discipline to follow their own trading plan. This makes it a real challenge, and one that I really want to test myself against.
The question is, can I realize the dream and become a consistently profitable trader with very little initial experience?
Preparation
After several weeks of studying as much as possible about how the forex markets works, I have decided to take the leap and open a demo account to try my hand a CFD trading. Although the process of opening the account took me only a few minutes, the decision to try to become a forex trader on at least a part-time basis has taken several weeks.
I've spent many hours of studying how technical analysis works via videos and books.  I started off feeling totally lost with many strategies that claimed to guarantee making money plus dizzying number of chart indicators.  Later on, I decided to try to start with the simple strategies and straight forward indicators.
Demo Account Trading
The advice that I have taken from almost everyone connected to trading was to first practice on a demo account before risking any actual money in the markets. This seems like good advice with free demo accounts available from nearly all brokers and gives me the opportunity to practice entering and exiting trades using some of the strategies that I have been learning.
Demo trading also allows me to try to get my head around the other things that can only become apparent in the real markets; including slippage and the spread between the buying and selling price (the brokers fees) which are hard to take in to account just looking at static price charts.
Which Broker?
Actually choosing the broker was something that I thought would be fairly straightforward, but there are a large number of highly-rated brokers out there offering demo accounts.
I wanted to begin my trading career on the right track so I created a shortlist of those brokers I considered the best and selected one of these to begin with.
Ideally, I was looking for a broker that I can become familiar with and eventually open a real trading account. After reading several review websites and weighing up those that I considered to be the best for a new trader, I settled on opening a demo account with HotForex.
My reason for choosing this particular broker is that they offer the Metatrader (MT4) trading platform.  I'd would like to become familiar with as it represents something of an industry standard for forex trading. HotForex also has a very low minimum deposit amount of only 5 USD. This broker also appears to have a good 'live education' area (something that I will probably be needing) to analyse the markets.  They are also well-represented on broker review websites, especially for new traders.
Account Opening
Opening the demo account was a really simple process and took a couple of minutes. The first step was to complete the personal details and information of the account holder. This account can be upgraded to a real account at any time, and there was no need to include financial information for funding the account at this stage.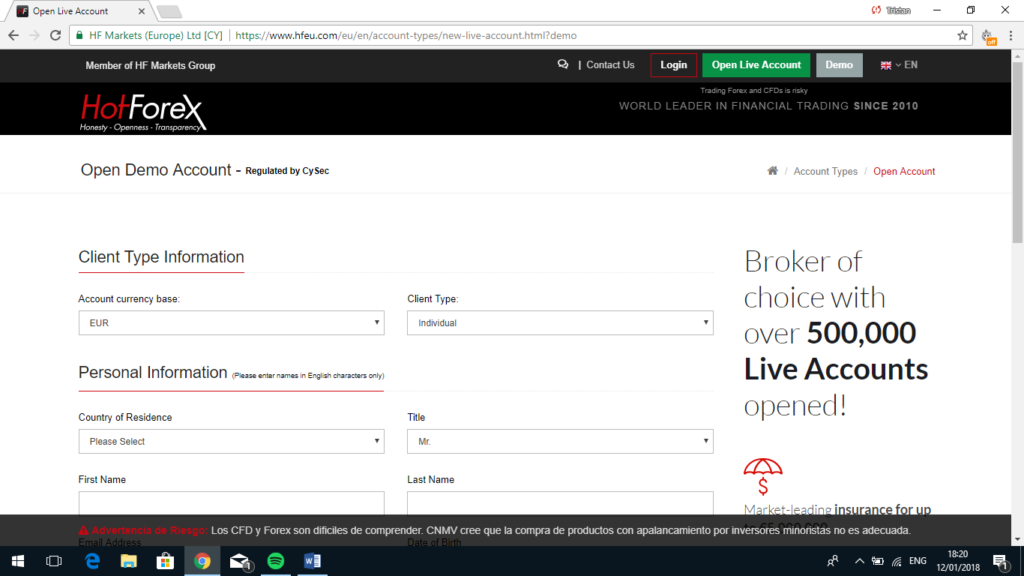 After completing the initial registration form, HotForex sent me an email with an activation code and I was then able to fully register my account by providing some more detailed information and answering a few questions regarding forex and CFDs. Some of these questions were actually quite testing for me, but thankfully Google helped me out with a few terms which I was a bit unsure about.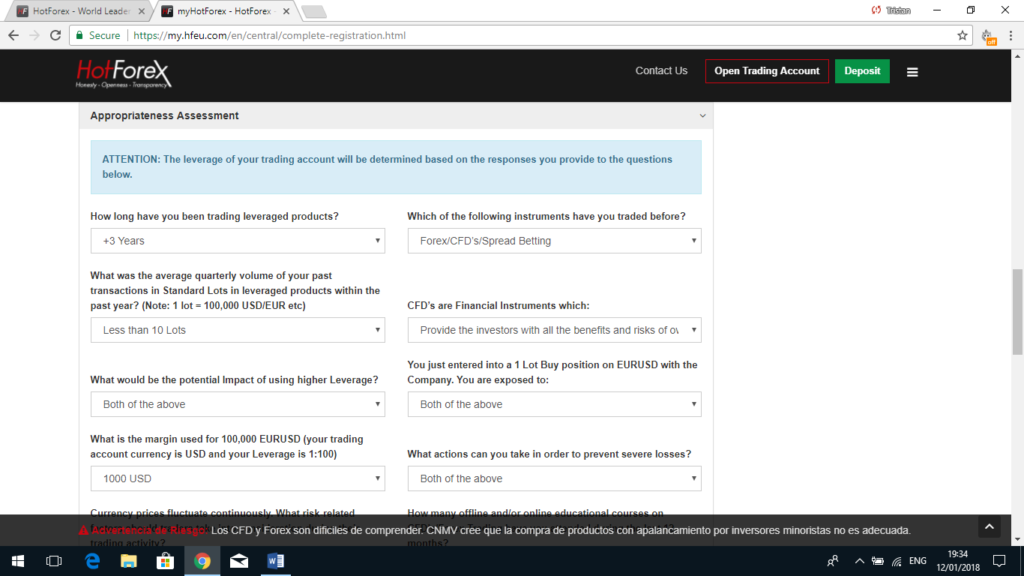 On completion of the registration, I was able to open a demo account through the "My Accounts" tab in the "My HotForex" area. At this point I was asked to decide how much I wanted to "deposit" in the demo. This is quite exciting with the choice to fund up to USD 100000. Although I was hugely tempted to deposit the maximum amount to play with in my account, I decided to select USD 5000 which was the smallest amount possible and much closer to the actual budget that I hope to eventually use in real funds.
The outcome of my HotForex assessment questionnaire during the registration process allows me a maximum of 1:500 leverage, which I consider quite generous and probably even excessive to begin with.
Once the information has been submitted, I was able to download the MT4 trading platform via the Hotforex website.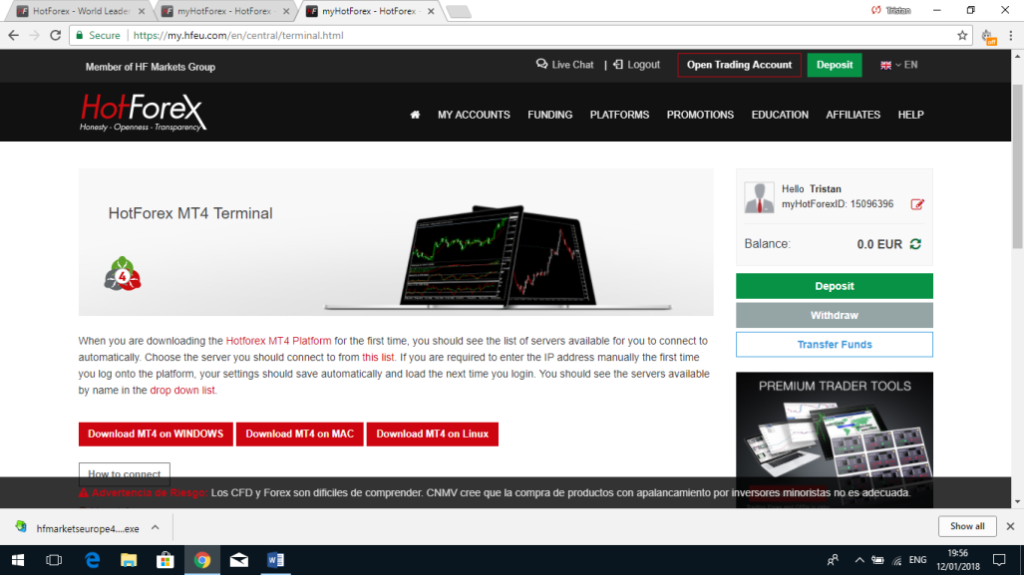 Using the demo login details and password I was able to begin exploring the MT4 Platform.  Here's what the trading screen looks like.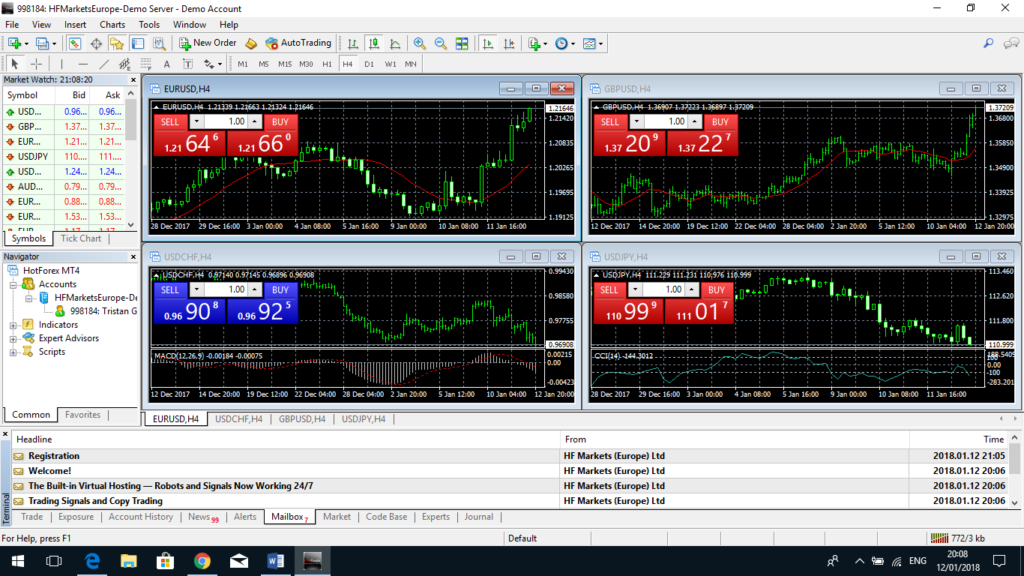 I'm thinking about my first trades now.  Here goes nothing. Wish me luck!