5
An innovative crowd trading platform that allows you understand market direction in real time
Generous promotions including a $50 no deposit bonus, $60 demo trading bonus, 40% initial deposit bonus up to $4,000, and cash back bonuses up to $5,000
Beginner friendly, intuitive web trading platform and mobile apps
Fast and easy signup process with your Facebook or Google account, chat support via What's App
Low fixed spreads and no deposit or withdrawal fees
Current Promotions
$50 no deposit phone verification bonus
Up to a $60 bonus by trading a demo account
40% Initial deposit bonus up to $4,000
Immediate cash back rewards for your trades up to $5,000
Overview
Trade360 is an innovative forex trading platform built around the concept of crowd trading. This is not the same as social trading where you just replicate the trading activity of people you choose to follow. Instead, Trade360 aggregates the real time trading information of all users of their platform. They tell you which currency pairs, commodities, indices and shares are most frequently traded.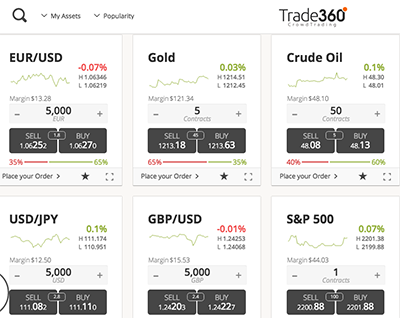 They show the percentage of all traders buying / selling, the trading behavior of people in your country and the trades the most successful traders are making.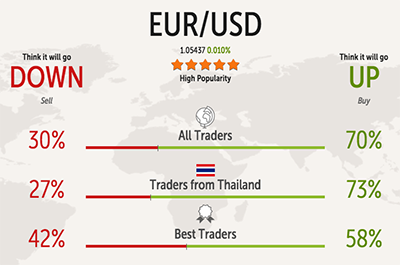 Traders can use this information provided by Trade360 to make their own informed trading decisions. Looking at trading trends in the aggregate gives you to ability to harness the "wisdom of the crowds" and avoid poor one-off trading decisions that individual traders may make.
Trade360's primary advantage is that they help distill some valuable market insights into actionable trading decisions. Newcomers to forex trading can understand where the market is heading without digging into the weeds of technical and fundamental analysis. You don't need to depend on any one forex guru or single trading advisor for your next move.
In addition to the crowd trading data, Trade360 also supplies its users with trading signals from independent provider, Alliance Signals. The signals are in integrated into the trading platform on the right sidebar and are updated throughout the trading day.

Charting tools are available in a easy to use point and click interface and the required margin, min lot size, leverage and spread for each instrument are clearly displayed as well.
Trade360 offers CFDs on 48 currency pairs, bit coin, 7 commodities, 8 equity indices, over 200 individual stocks. While it's product coverage is not an extensive as some brokers, you can still gain exposure to the most important parts of the financial markets via Trade360.
Trade360 does not however offer any managed forex accounts, automated or copy trading solutions. Its good for active independent self-directed traders but may not be suitable for people who want to be less involved in the markets on a day to day basis.
Market Analysis & Education
One area Trade360 is somewhat lacking is the amount of information they provide on financial markets at large. While their online tutorials and ebooks clearly explain how to use their platform, there's a limited amount of educational resources on how global currency markets work.
This may be because of Trade360's emphasis on using crowd data to drive trading decisions, instead of more traditional methods of extensive fundamental and technical analysis. Note the most suitable and successful approach to trading can differ with each trader. It's best to try a few different approaches and find which works best for you.
Trade360 offers some fairly reasonable fixed spreads. It's typical EURUSD spread is 1.8 pips. Order execution is handled via PX Exchange Ltd, which is regulated by the International Financial Securities Commission in Belize.
Trade360 does not charge any deposit or withdrawal fees. However, Trade360 may charge a $50 inactivity fee after 3 months if the account balance is less than $50.
Trade360 offers 5 different types of accounts. Some of the larger accounts also provide some extras like SMS alerts and increased cash back rewards. Islamic (swap free) accounts are also available upon request.
All accounts all utilize the same trading platforms and the primarily distinction is the minimum deposit and minimum lot size. The minimum lot size for the entry level account is larger than many other brokers. Typically, the minimum lot size is 1,000 units but Trade360's is 5,000 units.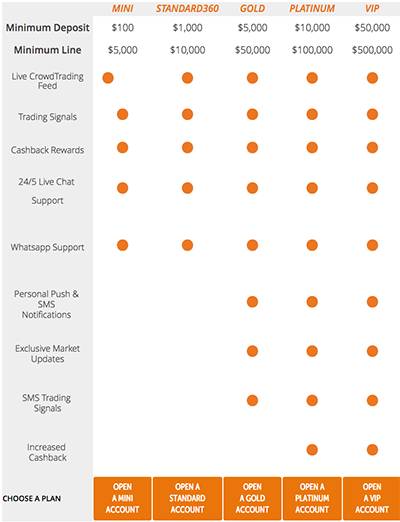 Trade360 allows you to use either USD or EUR as your base currency. They provide a wide variety of deposit and withdrawal methods including Visa, Mastercard, Maestro, American Express, Diner's Club, Skrill, Neteller, and Bank Transfer.
Trade360 offers a browser based trading platform as well as iOS and Android apps. With over 100,000 hours of software development invested, it's trading platform is very user friendly, intuitive and well designed. Vital trading data is displayed upon load and you can perform advanced charting easily with its point and click interface.
Given Trade360's focus on crowd-based self-directed trading, it does not offer the industry standard Metatrader 4 or any automated trading solutions. There are some advantages for beginner's however. There's not much of a learning curve for the platform allowing you to focus on trading rather than deal with software installation or master obscure program commands.
Desktop Trading
Trade360's browser trading platform is very nicely designed with little to no learning curve. Trading signals and crowd trading alerts can be found in the right hand column and let you know of the most significant movements in the market of the day. Such notifications include surges in trading volume and / or volatility for specific instruments across 20 min, 1 hour and 3 hour time frames. You can also use the navigation bar to sort tradable instruments by trading volume, volatility, daily price change, etc...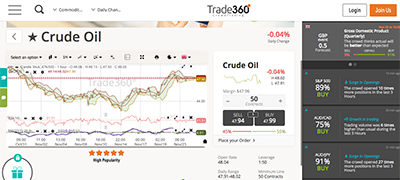 Trade360's platform makes all relevant trading information easily assessable including margin, buy / sell ratio, cash back rewards, leverage, spread, etc… You can also easily customize the interface, perform technical analysis and download charts for future reference.
Mobile Trading
Trade360 also offers free iOS and Android versions of its trading platform. These apps have the same functionality and user friendly interface as the desktop version.
There's no onerous paperwork or endless forms to open an account with Trade360. They give you the option of using your Google or Facebook account or sign up making it a quick and painless process.
Another nice feature if you can contact their customer support via What's App at this number +44-74-2523-6664. This is a much more convenient option than opening a live chat pop-up window and hoping for a response, especially if you're on your phone. If you prefer to speak with someone in person, Trade360 also offers 24/5 multi-lingual phone support.
Trade360 is a privately held company, founded in 2013 by a group of experienced traders and technologists. It is headquartered in Cyprus and it's parent company, MFP Global Markets Ltd, is an investment firm regulated by the Cyprus Securities and Exchange Commission under license number 202/13. Trade360 has no record of regulatory fines or warnings to date.
Trade360 uses Verisign SSL encryption for user authentication and data transfer. To protect user data and the integrity of their platform, Trade360 uses two layers of firewall protection and two separate server farms.
Trade360 is also one of the few brokers to provide negative balance protection and guaranteed stop losses. This means your losses will not exceed the funds that you've already deposited in your account. Also, your stop loss orders will be executed at the level you specified even if the market moves past that level, an important tool in minimizing losses in times of extreme market volatility.
Customer Reviews
ConnectFX.org
Average rating:
0 reviews
Trade360 - Harnessing the Wisdom of the Crowds for Forex Trading
Trade360 is an forex trading platform built around the concept of crowd trading. They aggregate the real time trading information of all users of their platform and tell you which currency pairs, commodities, indices and shares are most frequently traded. You can then make your trading decisions based on these insights.
Date published: 11/30/2016