9
A solid, reasonably priced, and full-featured broker suitable for traders of all types
Award winning customer service with 90% positive feedback, quick and painless account opening
Offers EURUSD spreads as low as 0.1 pips for certain accounts
Choose between dealer desk or ECN execution, Metatrader 4 or 5
Offers many managed forex account programs including PAMM, Signal and Strategy Providers
Current Promotions
Switch to FXTM from your current broker and receive $4 back for every lot traded
Open a new account with FXTM and receive up to a $5 loyalty cash back reward per lot traded for a period of 6 months
Refer a friend or family member and receive $25 per trader
FXTM also periodically offers trading contests with real cash prizes. The recent FXTM Mountain Expedition had a prize pool of $100,000.
Note: Bonuses and promotions are offered based on your country of residence.
Overview
ForexTime (FXTM) was founded in 2011 and is regulated in Cyprus, South Africa and Belize. Despite being a relatively new broker, it has garnered many awards in recent years including Best FX Broker 2016 from European CEO Awards and Top Customer Service Provider 2016 from the 9th Saudi Money Expo.  Its well designed platform and efficient customer service is optimized to save its trader's time so they can focus on making money.
FXTM is a full featured forex broker offering it's customers a wide variety of trading options, software, services, market data and educational material. It is well suited to a many different types of traders and trading styles. For instance, you can choose between ECN and Dealer Desk education, fixed or floating spreads, and Metatrader 4 or 5.
FXTM also provides less active forex traders a number of options including PAMM accounts, Strategy managers, automated trading via Expert Advisors and VPS services.
Despite its rich product offering, FXTM still maintains very tight and competitive spreads with EURUSD spreads of about 0.3 pips for commission free ECN accounts and and 1.3 pips for dealer desk accounts.
FXTM provides CFD trading on 59 currency pairs, 8 commodities, 11 stock indices and shares of 184 US companies at the time of writing.

FXTM uses a floating leverage methodology to determine margin requirements for most account types. It is based on (i) the size of open positions and (ii) the liquidity of instrument you are trading. Generally, FXTM will provide more leverage when your open position is smaller (e.g. less than USD 200,000) and the instrument has greater liquidity (e.g. FX majors).
Please note different entities under FXTM Brand offer different leverage due to regulatory restrictions. The available leverage is offered based on the knowledge, experience as well as your country of residence.

As mentioned earlier, FXTM provides many passive forex investment options including PAMM accounts, strategy manager services, and trading signals.
If you are an experienced forex trader with a good track record, you can also become a PAMM provider, a strategy provider, or trading signal provider. FXTM pays a baseline 20% successful fee to PAMM providers and you can set your own fees as a strategy or trading signal provider as well.

FXTM also helps facilitate automated trading strategies with expert advisor integrations in metatrader and VPS services. They do not however offer a platform for social trading.
Market Analysis & Education
FXTM won the Most Educational Broker from FXEmpire in 2014. They employ 5 market research analysts and provide an abundance of articles, videos, eBooks, webinars, seminars, and courses to their customers.
FXTM's chief analyst, Jameel Ahmad, has been featured on CNBC, Bloomberg, Reuters, and CCTV amongst other notable financial media outlets. Daily market analysis is available on their blog and youtube channel and they also have a podcast (available via iTunes) where Jameel discusses the impact of global events on currency markets.
FXTM offers both dealer desk and ECN execution accounts. Standard metatrader 4 dealer desk account charge a fixed spread of 1.3 pips. Standard ECN accounts have floating EUR USD spreads of around 0.1 pips but there is a $2 per lot commission charge as well. There is also a commission free ECN account (ECN Zero) however the EUR USD spreads are around 0.5 pips for this type of account. All in all, these spreads and commissions at FXTM are quite reasonable compared to their competitions where fixed EURUSD spreads are typically around 3 pips.
While FXTM has pretty low transaction costs and will even reimburse you for any cost incurred for deposits up to $1,000. However, it does levies some fees for withdrawals consisting $3 per credit card withdrawal, between 1% to 3.9% of funds for e-wallet withdrawals, and between USD 15 to 60 for bank wires.
FXTM offers a number of different account types to cater to each individual trader's needs. It's dealer desk accounts include the Standard, Cent and Shares account. The shares account is the only account you can use for equity CFD trading. In comparison to the Cent account, the Standard account has a higher minimum deposit, lower spread, broader selection of forex pairs, higher max volume and more forgiving margin terms. The minimum lot size for both Standard and Cent accounts is 1,000 units.

FXTM also offers a variety of straight through processing (STP) execution accounts including the ECN, ECN Zero, ECN MT5, and FXTM Pro. The ECN zero has the lowest deposit requirement of these four at $200. There is no commission with an ECN zero account but the EURUSD spreads start around 0.5 pips. The minimum deposit for Standard MT4 and MT5 ECN accounts is $500. Commissions are $2 per lot but EURUSD spreads lower, starting at 0.1 and 0.2 pips respectively. Forex and commodity trading is available for all ECN accounts however, the MT5 account is limited to 34 currency pairs and 2 metals. The minimum lot size for all ECN is still 1,000 units.

One thing to keep in mind are margin terms are a bit more lenient for these market maker accounts compared with the ECN accounts. Margin call level is 40% and stop out levels are 20% for a standard dealer desk account. By contrast, margin call levels are 80% and stop levels are 50% for ECN accounts. This means that you're a little bit more likely to receive a call for margin or have your position closed out with a ECN account than a dealer desk account.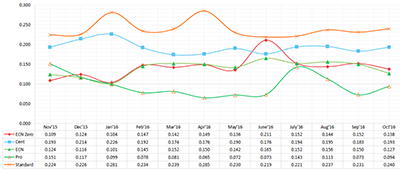 Execution times have historically been faster for ECN accounts than dealer desk accounts given the high number of liquidity providers ECN accounts have access to.
FXTM provides the industry standard forex trading platform, Metatrader 4. It is also one of the few brokers to offer the updated version, Metatrader 5.
FXTM makes both of these platforms available on PC, Mac, Web Browser, iOS and Android. This allows for a seamless trading experience regardless of whatever kind of computer or mobile device you have.
For traders pursuing automated trading strategies, FXTM also makes free VPS hosting available to ensure seamless uninterrupted trading.
Desktop Trading
FXTM has nice comparison table showing the differences between Metatrader 4 and 5.   Some of the additional MT5 features they highlighted include partial order fills, position netting, buy and sell stop limit orders, more technical indicators and technical analysis tools, multi-thread and multi-currency strategy tester, and MQL5 community chat.  FXTM offers both MT4 and MT5 demo accounts so you can try both and see which you prefer.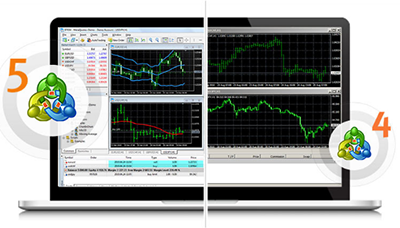 MT4 Multi Account Manager is also available for professional MAM account managers as well.
Mobile Trading
In addition to MT4 and MT5 mobile apps, FXTM also provides its own mobile app with real time quotes, daily market analysis, trading tools, and educational material.
FXTM provides 24/5 one to one phone support in 16 languages. Online chat and email support are also available. They promise a quick and painless account opening process with account approvals in less than 12 minutes and fund processing within 5 minutes.

For their efforts, FXTM has over 90% positive feedback and won the Top Customer Service Provider from the 9th Saudi Money Expo in 2016.
For traders who desire dedicated customer service, note that FXTM doesn't offer personal account manager services at this time.
Forextime, Ltd. is a privately held Cyprus company established in 2011. FXTM's founder, Andrey Dashin is also the owner of another leading forex broker, Alpari.  With over 10,000 customers in over 99 countries, Forex Time is a well established global brand rivaling its older sibling.
FXTM is regulated by CySEC in Cyprus, the FSB in South Africa and the IFSC in Belize. It has no record of regulatory fines or warnings to date. Client funds are held in segregated accounts at top European banks and electronic communications are protected by SSL encryption. FXTM was awarded the Most Trusted Forex Broker award by MENA in 2014.
FXTM is very dedicated to achieving best execution for its traders. It was awarded the Fastest Order Execution award by the Forex Traders Awards in 2015. In a study verified by Price Waterhouse Coopers, over 80% of slippage always works in the customer's favor. That is to say if a trade was executed at a different level than what was shown on screen, it was better for the FXTM's client's 80% of the time.
Customer Reviews
ConnectFX.org
Average rating:
0 reviews
Forex Time (FXTM) - A Broker that Saves You Time and Money
Despite being a relatively new broker, FXTM has won many awards in recent years including Best FX Broker 2016 from European CEO Awards and Top Customer Service Provider 2016 from the 9th Saudi Money Expo. Its well designed platform and efficient customer service is optimized to save its trader's time so they can focus on making money.
Date published: 12/30/2016