Established 2007, Strong Financial Backing from Parent Company, Asian Financial Giant, Henyep Group
Under Strictest Regulatory Regime in Europe, No Record of Fines from UK's FCA
Offers Some of the Tightest Fixed Spreads (EURUSD 1.8)
Offers Higher Leverage Than Most European Brokers (GBPUSD 312:1)
A Good Choice for an Experienced Trader Who Focuses on Trading FX Majors and Wants to Minimize Transaction Costs
Current Promotions
25% bonus on initial deposit up to $5000 (subject to $500 minimum deposit and trading volume minimums)
14 day Free Access to Trading Central
Free Technical analysis eBook
HY Loyalty Program with up to $3 rebate per lot depending on trading volume
Overview
Established 2007, HYCM is the London based forex trading arm of the Hong Kong financial services conglomerate Henyep Group. HYCM is regulated by the United Kingdom's FCA.  The FCA is known to have far more stringent regulatory standards than its Cypriot counterpart CySEC, the main regulator for most European Forex brokers.  A highly polished operation with no record of regulatory issues, HYCM has won many prestigious industry awards in recent years from well-known organizations like FX Report and World Finance.
HYCM delivers a lot value to its customers by offering some of the tightest fixed spreads along the high leverage on forex pairs.  However, HYCM's product offerings aren't as deep as its peers.  For example, while HYCM allows you to trade equities, it only offers CFDs on 12 companies.  HYCM's market analysis and educational content is rather limited as well.  It only has a few basic articles and doesn't offer webinars,courses or instructional videos like many other brokers.  Despite low transactions costs and account minimums, HYCM also levies quite a number of fees when you try to take money out of the account.
Overall, HYCM is a good choice for an experienced forex focused trader who wants to minimize transaction costs, and does not plan on frequently move money in and out of their account. HYCM might not be a good fit for novice traders who could benefit from more educational resources or traders who are also interested in trading equity and commodity markets as well.
While the HYCM's product offerings span many different markets, its depth of coverage is relatively shallow. HYCM only offers 40 Forex pairs where most brokers offer over 50.  Although they offer CFDs on shares, indices, and commodities you can only trade 12 companies, 8 indices and 4 commodities.  While this is not a problem for forex focused traders, it can be limiting for traders who like to trade across markets.
HYCM offers higher leverage than most other brokers.  For illustration, most forex brokers offer up to 200:1 leverage on EUR/USD but HYCM offers 221:1 leverage.  The amount of leverage varies and depends on the volatility and liquidity of the specific forex pair.  For example, HYCM offers up to 312:1 leverage on GBP/USD but only 88:1 leverage on EUR/TRY (Euro vs Turkish Lira).  
Market Analysis & Education
HYCM offers its own daily and weekly market commentary.  These not in-depth treatments of market events and merely describes what happened without much analysis.  Customers with a minimum deposit of $250 are given access to trading signals from a leading independent technical analysis research firm, Trading Central.
HYCM doesn't offer a lot of educational content on its website.  While many brokers offer detailed ecourses and webinars, HYCM only has a few brief articles on general topics available.   This may not be an issue for an experienced trader, however, novices may be better served by a broker who provides more resources.
HYCM offers some of the tightest fixed spreads with EURUSD at 1.8pips.  Smaller traders will be happy to know that HYCM provides to same narrow spreads to mini accounts as premium accounts.
Although HYCM makes it relatively cheap to trade, they make very costly to move money out of your account.  There is a USD 30 Wire Transfer Withdrawal Fee, USD 50 Credit Card Withdrawal Fee and a USD 50 Account Closing Fee.  They also charge a USD 25 inactivity fee after 90 days without trading activity. HYCM is better suited for active traders who do not plan to make frequent transfers out of their account.
HYCM's minimum deposit for a mini account is only $50, lower than most other brokers.  However, traders who want direct access to the interbank market have the option to open a HY Pro currenex account with a minimum deposit of $5,000.  You can fund your HYCM account by credit card, wire, or via online payment with Paypal, Skrill and Webmoney.
HYCM's minimum trade size for its mini accounts is 2000 units; most other brokers allow trades of 1000 units (1 micro lot).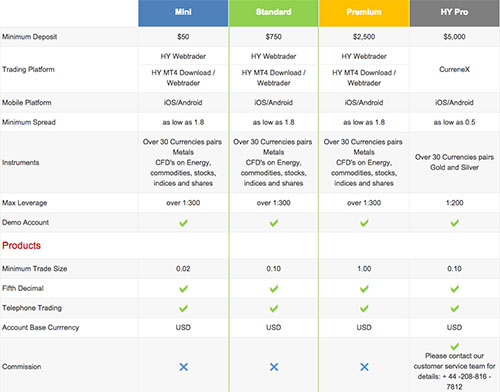 HYCM offers a number of trading platforms including the industry standard Metatrader 4 (PC, browser), Metatrader mobile (iphone, ipad, android), HY Webtrader (Browser), mobile app version of HY Webtrader (ios and andriod), HY Pro Trader (PC) for STP Currenex accounts. HYCM requires that you specify which software platform you want to use at the time of account opening.
Desktop Trading
HY Webtrader is HYCM's own browser based trading platform and is made to accounts of all sizes.  One advantage of using HYCM over other platforms is that HYCM allows you to "freeze" a quote for a short period of time.  HYCM guarantees execution at that level, ensuring that there will be no negative slippage.  You can also make PayPal and credit card transfers in HY Webtrader.  However, HY Webtrader does not allow you to run automated trading strategies.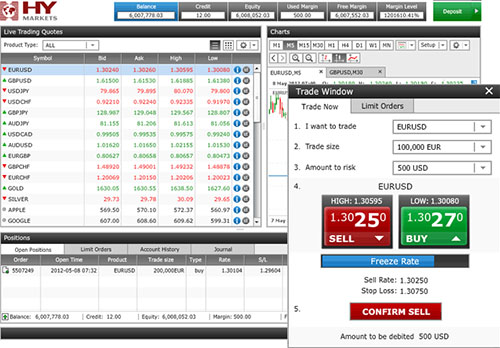 Metatrader 4 is the standard trading platform for the forex market.  It has many powerful features including advanced charting, back testing and automated trading via expert advisor integrations. HYCM is one of the few brokers to offer Metatrader as a PC download and browser based platform.  The browser based version of Metatrader offers the same navigation and features as the as the native PC program.  HYCM only makes Metatrader 4 available to accounts with a minimum deposit of $250 .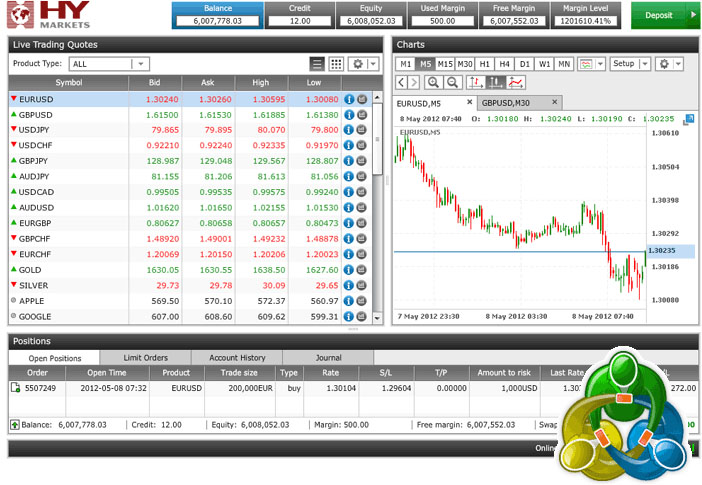 HY Pro Trader is an institutional grade platform for large professional traders powered by Currenex.  It allows you to access deep liquidity of the interbank forex market for scalping and hedging.  You must have a minimum deposit of $5,000 to use this platform.  HYCM does not offer a mobile version of this software
Mobile Trading
HYCM offers two apps to manage your forex account on the go.  Metatrader 4 mobile (iPhone, iPad, Android, Windows Phone) fully syncs with your HYCM Metatrader account but it is only available to accounts with a minimum deposit of $250.  The mobile version of HY Webtrader (iOS and Android) is available to all accounts and offers the full functionality of the browser-based platform.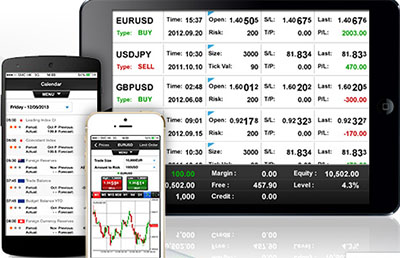 HYCM offers 24/5 multilingual phone support as well as live chat and email support.  During off hours, you can also leave a note to have a representative call back you in a webform.
Accounts with a minimum deposits of $2,500 have access to a personal VIP customer service representative.  They can provide you with personalized market updates, help with trade execution and resolve technical issues.
HYCM is the Forex trading arm of Asian financial giant Henyep Group.  Henyep was founded in 1977 as a gold trader in Hong Kong.  It expanded to stocks and commodities and become a member of Hong Kong Stock Exchange, Hong Kong Futures Exchange, and The Commodities Exchange of New York. Henyep also has a capital market group based in London, and investment bank in Dubai, Consumer Finance arm in Hong Kong, and a property investment JV with China Construction Bank.  Although it is privately held, it is a well-established and deep pocketed company with global reach
Regulated by the FCA, HYCM is subject to one of the strictest regulatory regimes in Europe. This gives HYCM's customers a greater amount of customer protection.  For example, HYCM's customers have the maximum benefit of GBP 50,000 under the Financial Services Compensation Scheme where customers of CySEC regulated brokers only have a maximum benefit of EUR 20,000.  In its 8 years of operation, HYCM has had no record of a fine or sanction by the FCA.
HYCM also uses cutting edge technology to ensure data protection and the integrity of its network communications.  All transactional and account information is encrypted with VeriSign issued 128-bit-SSL certificates.
Customer Reviews
ConnectFX.org
Average rating:
0 reviews
HYCM - FCA regulated broker with low spreads, high leverage
Established 2007, HYCM is the London based forex trading arm of the Hong Kong financial services conglomerate Henyep Group. HYCM has won many prestigious industry awards in recent years from well-known organizations like FX Report and World Finance.
Date published: 01/01/2017