8
Recognized as the Best Social Platform of 2016 and featured in TechCrunch, Mashable and Wall Street Journal
A unique social trading experience where you can privately chat with other users
Unprecedented level of transparency showing other traders open positions, orders, and past trades
Reasonable transaction costs compared with other social trading services
Social Web Trader and MT4 Integration allowing you to trade the same account
Overview
Tradeo is an innovative social trading platform which allows you to interact with, learn from many seasoned forex traders. This Tel Aviv based company was founded in 2012 and was recognized as the "Best Social Platform" of 2016 by Daily Forex. It has also been featured in notable finance and tech publications like TechCrunch, Mashable, and The Wall Street Journal.
Social Trading is an ever increasing in popularity. Given the depth and liquidity of forex markets, an individual trader's profits will unlikely be affected even if many other people imitate their trading activity. In fact, 81% of Tradeo's users share their complete trading portfolio and history.   Tradeo users can also discuss and validate various trading ideas.  Tradeo's platform also allows you to survey market sentiment in real time by seeing the percentage of traders buying and selling a particular pair.
One thing which differentiate Tradeo from other social trading brokers is their attention to the user experience.  The trading platform is very intuitive and user friendly with a easy point and click interface and the social features will be familiar to Facebook / Twitter users.  Tradeo also allow you to trade the same account with the social webtrader and MT4.  Other social trading brokers will not offer Metatrader while others will required you to open a separate account for each platform.
Some drawbacks are the minimum deposit to open an account is higher than most other brokers at USD 250.  It also has a number of withdrawal and currency conversion costs which can add up over time.  Traders also do not have monetary benefit from followers via lot rebates, management fees, etc... at this time.
Tradeo offers a healthy range of instruments. Its customers can trade including 41 currency pairs, 9 stock indices, 4 precious metals and 65 individual shares of companies listed in the US, UK, Italy and France. You can also trade oil futures (with expiry dates) as well as CFDs on oil (without an expiry date) via Tradeo. This is a feature that not many brokers provide. Tradeo offers 200:1 leverage on all currency pairs, 50:1 leverage on indices and commodities, and 10:1 leverage on individual stocks.
Tradeo's advanced but user friendly social trading platform allows you to chat with other traders, view their portfolio and historical performance, follow their signals and alerts completely free of charge.
The social trading features can make trading a fun and interactive endeavor. You can communicate with other traders via a broadcast, asking a question or sharing ideas and information. If you have a specific trade in mind, you can send a trading signal to your followers. With signals, you can specify the currency pair, buy / sell, expiry date, stop loss / take profit levels and your reasons for the trade. You can also execute the other trader's signals in the feed for your own account. Tradeo will show you how many people execute a signal and the number of likes.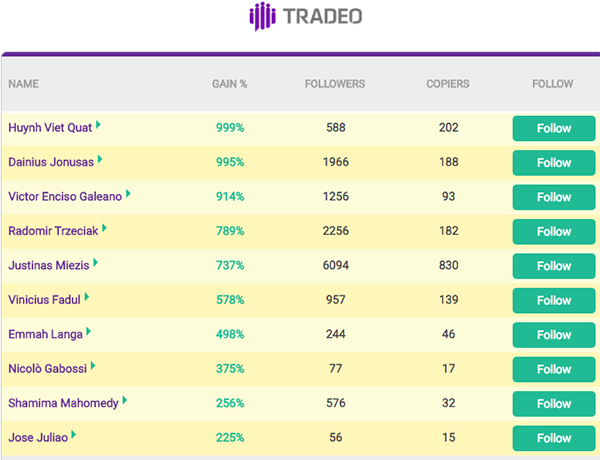 Tradeo provides a list of the most popular traders by default based on returns and followers. However, you can screen other traders by various criteria including language, country, trading session, approach (e.g. technical, fundamental), style, most traded pair, leverage, experience, max drawdown, # of traded instruments, trade duration, account age, etc...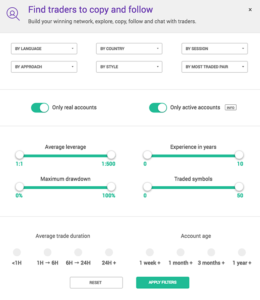 Once you've narrowed down your choices, you can get detailed information on each individual trader. This includes various historical performance statistic such as total gain / loss, win ratio, risk level, leverage, number of trades, max drawdown.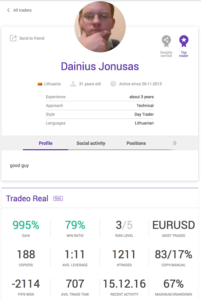 You can also find social information including their followers, who they follow, comments, broadcasts, signals, and likes to see how engaged they are with the trading community. The look and feel will be fairly familiar to users of social platforms like Facebook and Twitter.
Tradeo also provides detailed information on a trader's open positions, pending orders and past trades. Although eToro also provides current portfolio and past performance statistics on other traders, it doesn't provide a detailed trade history. Tradeo really takes transparency and openness to a higher level.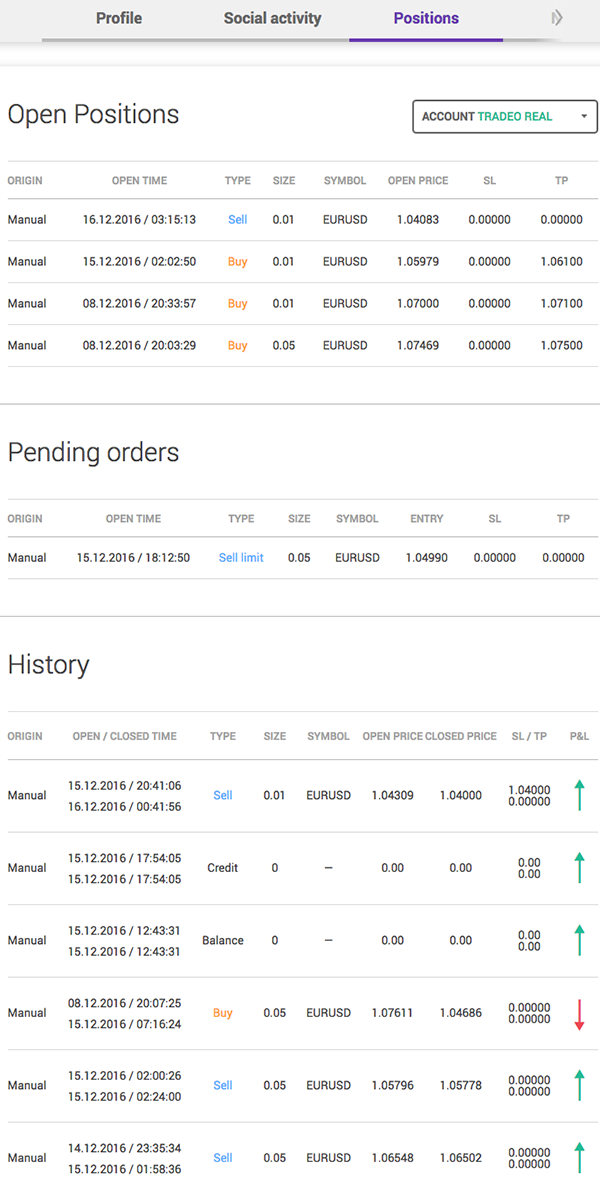 One drawback is that popular traders don't have their ability to monetize their popularity on Tradeo. eToro's popular investor programs offers lot rebates to traders with a certain number of followers. Tradeo does not have a similar program in place at this time.
Market Analysis & Education
Tradeo provides infrequent market analysis on its blog and some webinars on its youtube channel.
The best sources for news and market analysis on Tradeo is probably your peers. The Social Webtrader will show you the percentage of traders buying a selling a particular instrument.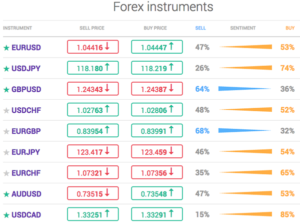 Tradeo's transaction costs are competitive relative to other social trading focused peers like eToro.  They offer commission free trades and floating spreads for EURUSD are typically around 2 pips.
Tradeo does charge a number of service fees including a withdrawal fee of 0.15% of the withdrawal amount, subject to a minimum of $15.  There is also a $22 inactivity fee per quarter assessed after 90 days.  Although there is no deposit fee per se, there is a 0.5% conversion charge if you deposit funds a in currency other than your account currency.
Tradeo's minimum deposit is USD 250, which is higher than most brokers.  However, you do have the option of first opening a demo account to try out their social trading features first to determine if they are the right broker  for you.
Tradeo only offers one standard account type where the minimum lot size is 1000 units and leverage on currency pairs is set to 200:1.  While most brokers offer multiple account types with different leverage, lot sizes, software, etc... simplicity can be a virtue.  Having just one type of account allows you to focus on trading rather than the terms and conditions of your trading account.
You can fund your account via Visa, Mastercard, Maestro, Wire, Skrill, Neteller, Sofort, and Trust Pay.  While fellow social trading provider eToro only offers USD accounts, Tradeo offers three different base currencies: USD, EUR and GBP.
Tradeo's primary trading platform is the browser based social trader. However, it also offers Metatrader 4 for PC, an IOS and Android version of its social trading platform and an IOS app with its webinars. The look, feel and function of the mobile apps are very similar to the browser platform, giving it's users a consistent experience regardless of device.
Desktop Trading
Tradeo's social web trader platform offers many of the feature's available in other forex trading platforms. You can perform technical analysis with it's comprehensive suite of charting tools and indicators. The charts will also show when certain traders opened new positions at at which levels and display the percentage of trader buying and selling the pair. You can trade execute trades, set stop loss and take profit levels right from the chart as well. For fundamental traders, you can access economic data releases and top news stories within the platform. Social features including broadcasts, signals and chat are only one click away in the tabs. It's important note that Tradeo is currently the only social trading platform which allows private peer to peer chat at this time.

As mentioned earlier, you can trade the same account with both its social webtrader and the Metatrader 4 platform. This is actually pretty unique as social trading specialist eToro does not offer Metatrader 4 and other brokers who do offer social trading often require you to open separate social trading and Metatrader accounts. Having multiple live accounts makes it more difficult to track and manage the risks of your overall trading portfolio. Tradeo however has taken it upon themselves to undertake this platform integration for the convenience of their customers. With Tradeo, you can use the powerful charting tools and automated trading via expert advisors in Metatrader 4, as well as benefits of the social trading network in the webtrader.
Mobile Trading
Tradeo offers iPhone, iPad and Android versions of its social web trader. It also has a separate IOS app named Tradeo TV where you can view all of its exclusive webinars free of charge. These 30 minute real time webinars are offered in 8 different language as well.
Tradeo makes signing up for an account a really quick and painless process by allowing you to use yourGoogle, Facebook or Twitter account
They offer 24hr multi-lingual phone support you can also get help via live chat or email.  By comparison, it's social trading counterpart, eToro only offers customer support via a ticketing system.
Tradeo will provide a personal broker if your account balance is at least $1000.
Tradeo is an innovative, venture backed fin tech company started in 2011 and led by CEO Jonathan Adest. This is a venture-backed company with over $10.5 million raised to date and 120 employees at present.
It started as a cross-broker social trading platform (similar to Zulutrade and Tradable) but pivoted to become a stand alone broker in 2014. They felt they weren't able to provide the best level of customer support while working with other brokers. Tradeo thus stopped offering it's platform via third parties, acquired a CYSEC license and started offering a full brokerage service of its own.
Tradeo maintains segregated accounts for its customers and has no record of regulatory issues at the time of writing. It's website uses SSL encryption to secure payment information. Tradeo is a STP broker who uses GBE Brokers Ltd. as its execution venue.
Customer Reviews
ConnectFX.org
Average rating:
0 reviews